As tensions grow on the Korean Peninsula, Olympus Has Fallen presents a timely scenario, writes Michele Manelis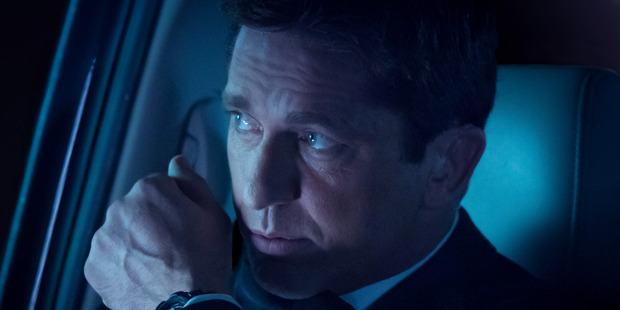 Bearing more than a little resemblance to the Die Hard franchise, Olympus Has Fallen features Gerard Butler as the flawed, rough-around-the-edges hero. And in true Bruce Willis style, he must single-handedly save the day against Herculean odds, while spouting a battery of wise-cracking jokes.
Mike Banning, a discharged presidential security guard, finds himself trapped in the White House during a takeover by a maniacal North Korean terrorist (Rick Yune). This one-man-army battles an endless barrage of commandos doing terrible things to the carpets at 1600 Pennsylvania Ave.
"I didn't think much about the Die Hard movies," says director Antoine Fuqua. "Outside of a guy who has to deal with terrorists by himself, that's Die Hard, but for me the journey of Banning was different.
"And besides, this attack is much more real. This is political and more of a hotbed as opposed to a smaller situation about a building and a terrorist blowing it up for money.
This is bigger. We're in a different era.
"I don't think about Die Hard except when people bring it up, as you just did."
Butler serves as producer on the film and tips his hat to Willis.
"If we are talking about more established action actors, and I say this in the most diplomatic way, I love Bruce Willis. I love that he's a badass, and he's so smart yet he's so raw. He's just that bad boy that always has a glint in his eye and that curled-up smile on the side of his mouth," he says with a grin. "It's a compliment to be compared to him."
The President of the US is played by a mild-mannered Aaron Eckhart, and a reverential Morgan Freeman brings gravitas to his role as acting President while the former is under siege. The cast is rounded out by Angela Bassett, Dylan McDermott and Melissa Leo.
Butler makes a comparison between his real-life circumstances as a former lawyer and the disgraced lead character he portrays, who saves the lives of many Americans.
"One of the reasons I'm an actor is because I was a lawyer and I was fired. But the difference is, I was very unhappy in what I was doing and I wasn't being very good at my job, so they got rid of me. But Banning was great at his job. And the crazy thing is, like in this movie, the synchronicity of life is fascinating, if not unbelievable at times. If that hadn't happened to me, I wouldn't have been able to come here to Hollywood and be able to fulfil my purpose, which I believe is to be an actor," he says, straight-faced.
With a budget of US$70 million ($82.6 million), the film was shot primarily in Shreveport, Louisiana, far from the Washington setting.
Says Fuqua: "Building a White House was difficult because there's only so much CGI you can use, so we built as much as we could to scale. We had guys from the Secret Service on set as consultants."
Arguably, it's a quintessential American movie in its unapologetic flag-waving and over-the-top patriotism.
Says Butler: "It makes me want to stand up and be counted as an American, even though I'm from Scotland. But listen, I was in New York in 9/11 when the buildings collapsed, and I was in London during 7/7, when the bombs went off; I am a world citizen. I am human and I have those universal values and fears and principles that anybody does."
Evidently, Butler is a little more effusive than usual this afternoon (perhaps it has something to do with taking producing credits) and continues his impassioned monologue.
"I think that any person watching the White House in that situation, which to a British person could just as easily be their Downing St; or it could be happening anywhere in the world ... but there's something very powerful about setting it in the White House. The code name for the White House is Olympus; the seed of the Gods, the home of what we would see as the most powerful place on the planet.
"So I think that brings up a lot of emotion in people no matter where they are from."
It is serendipitous that the movie's release comes at this particular time, with tensions rising on the Korean peninsula. Butler says, "We used the tension between North and South Korea and made an action thriller on the backdrop of a geopolitical situation that is going on in the world right now.
"You set it up to say, 'What if?' We wanted to provoke the audience and make them think about it," he explains.
"This movie is about keeping your guard up because you never know what's around the corner. But at the heart, the film is a hero's journey."
The film around the corner from Olympus is Roland Emmerich's White House Down, another action thriller starring Jamie Foxx as President and Channing Tatum as a cop. The White House is taken over by terrorists and it will be Tatum's turn to save the day.
Asking Fuqua of its mirrored premise, he responds, after a lengthy pause, "Well, it's nice to be first."
What: Olympus Has Fallen starring Gerard Butler, Morgan Freeman and Aaron Eckhart; directed by Antoine Fuqua
When: Opens at cinemas today
- TimeOut