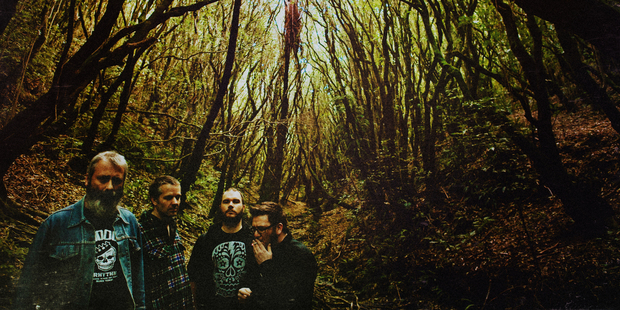 If you find yourself getting eyeballed by a rather fearsome-looking bearded fella as you browse the heavy metal section of your local record shop, don't worry - it's probably just Matt Hyde, lead screamer of Beastwars.
He won't bite, even though it looks like he might. He's just intrigued by those people, especially the unlikely looking ones, getting their heavy music fix.
"Everyone loves looking through the heavy metal albums," he says with a laugh. "I watch people do it. And they look at everything, and the heavy metal covers, they look at them and go, 'wow, look at that, what were they thinking?"'
It's many of these casual and sometimes closet heavy metal fans who have contributed to the popularity Beastwars has built up since releasing their self-titled debut album in 2011. The band is made up of Hyde, guitarist Clayton Anderson, drummer Nathan Hickey, and bass player James Woods, who are all in their late 30s and early 40s and have played in a number of bands over the years. They've gone from a "Monday night jam band" in the late 2000s to changing the face of heavy music in New Zealand with their brutal and majestic songs.
Because, reckons Hyde, there are people out there who would not normally listen to the sort of music Beastwars play, but now they do.
"That's the best thing," he says. "I think also, we're so influenced by 70s rock and grunge and there are so many people who are into that stuff. I think our music is kind of modern, but old. And New Zealanders love heavy music as much as they love reggae. I just think we hit the point where reggae was on the way down, and we kinda stuck in there. It wasn't planned. It just happened."
And come the release of second album Blood Becomes Fire on Saturday, their popularity could be in for another boost - the album's a step up in intensity from their debut with beasts like Caul of Time ("It's a primal scream callout to the ancients, just to let it happen, let this beast roll") and the primal slugging of Shadow King.
"I suppose we wanted to make a louder, heavier record and I think we got it there. But also more in-depth if possible, you know, more spiritual or something. But it's hard to translate what we were thinking really. But we tried to branch out and make songs that were different. I wanted to keep pushing on to the future."
If Blood Becomes Fire goes to No1, which is highly likely given the buzz around its release, it will be the heaviest album to grace the top of the album charts in many years.
It was a unique combination of elements that went into the making of the album. As Hyde puts it: "Basically, what happened was people started coming to our shows and we couldn't help but be affected by the people in the audiences and the people we met [while on tour]. But also the landscapes we saw, storms we saw, and the weather."
And apart from the fierce and foreboding storm artist Nick Keller (who won a Tui award for his work on Beastwars' debut) has brewed up on the cover of Blood Becomes Fire, some of the weather Hyde was inspired by happened during a rainy holiday he had with his family in Golden Bay.
"It was raining and I was reading a lot about ancient Greeks and Romans - and how there have always been gods even before Christianity. There were so many ideas flowing and it all went into the album.
"Mortality, the mysteries of life, and all these gods that through the centuries people have called upon. And your own mortality, too, and there is something about music that when you're in the middle of it, it can be such a powerful experience. And sometimes, making this record, it got so dark that we just had to walk away."
This time around, Hyde also came up with characters he could speak through rather than having it come from his own mouth. It was a reaction to a past time when he was in rowdy and reckless band the Larry Normans and living life on the edge.
"I took it to a level of dangerous living where I was lucky to walk away. It was 24/7 madness, really strange, all encompassing. So I don't want to be that person on stage anymore who is singing about his own life and by developing characters I can speak through, I can still keep my sanity."
Yet lyrically, there are moments when it is still very personal.
"You call on your life. I'm 42 and I've been doing gigs and been in bands, and also being a parent, working, travelling - and all these things can be incorporated in songs. And for me, my mother is dead now because she got sick, and she was a very religious woman, and I tried to incorporate how she felt because she was so strong, but she passed away."
There is a unifying Beastwars aesthetic and philosophy that comes through in the way they do things, from their fiercely independent attitude ("We are our own record company, we're the touring company, we're everything") and Keller's distinctive artwork to their commitment to touring and the uncompromising music they make.
"I think it comes from that punk rock DIY mentality and when you think about it, some of the most famous music comes from that ethos. And in the past, in my [musical] life I've depended on too many people, and we just say, 'nah, we'll do it like this'. And that means trying to keep the shows to a reasonable price, to making great merchandise, and to make it accessible to everyone - and try and play as much as we can.
"And the artwork is so special because one day the band will end and that's what we will leave behind, great art."
Who: Beastwars
What: Wellington's self-described sludge metal four-piece with the band mantra of "Obey the riff"
New album: Blood Becomes Fire, out Saturday
Debut album: Beastwars (2011)
On tour: Real Groovy, Auckland, Saturday, 4pm; Kings Arms, Auckland, May 3; Bodega, Wellington, May 4; Static, Hamilton, May 17. For full tour dates and tickets go to utr.co.nz
- TimeOut