Brad Pitt is both in front of and behind the biggest zombie movie in film history. Peter Mitchell met him on set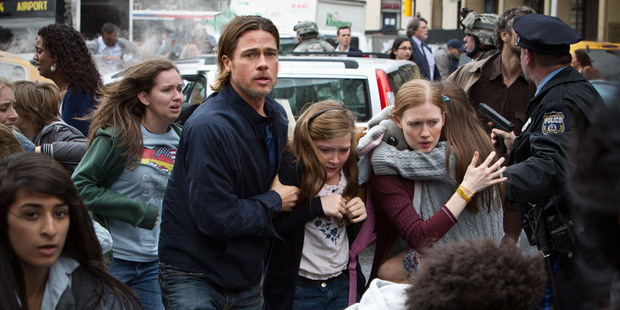 It's not every day Brad Pitt drops by to say g'day. But there he was on the Paramount Studios lot, dressed in T-shirt, jeans, a 10-day growth and a big smile.
It was supposed to be only Marc Forster, the director of Pitt's new zombie film, World War Z, who was scheduled to show up for a question and answer session and sneak peek of some footage; however, the small contingent of reporters was not complaining about the surprise visit.
"I said, 'let's go over there together'," said Forster, the 45-year-old German-Swiss film-maker, who was doing some final editing to World War Z on the Paramount lot.
"Brad is the producer of the film and we are in the finishing process.
"I said, 'I'm coming over here'. He said, 'I'll join you'."
It would be nice to think the usually media-shy Pitt was only being a good bloke keen to say hi, but he, Forster and Paramount have a lot riding on the US$170 million ($200 million) film, the most expensive zombie movie in history.
They have suffered plenty of early negative press, with reports that Pitt and Forster stopped speaking to each other during filming, the budget blew out by US$50 million, new screenwriters were hired late for a third act rewrite and the ending had to be re-shot.
Paramount also pushed back the release from December 2012 to June this year.
Pitt and Forster didn't want to dwell on the gossip or be negative.
"I wanted to make a film my sons could actually see," said Pitt, who has three boys - Maddox, 11, Pax, 9, and 4-year-old Knox - with partner Angelina Jolie.
Forster confirmed the film would be edited for a PG13 rating in the United States, in which the Motion Picture Association of America warns "some material may be inappropriate for children aged under 13".
The film is based on the Max Brooks book, World War Z: An Oral History of the Zombie War, and in 2007 Pitt's production company and Paramount won a bidding war for the film rights over Leonardo DiCaprio's production company, Appian Way.
The story follows a zombie pandemic that has spread worldwide, with United Nations' employee Gerry Lane (Pitt) dispatched from the US to troublespots around the globe to work out a way to stop the catastrophe.
The zombies are not like the undead featured in George A. Romero's films such as Night of the Living Dead.
In World War Z the zombies are ultra-fast and, to climb over tall walls and other impediments to get to humans, the ravenous creatures join together like ants, climbing on top of each other to form pyramids.
"Four years ago, I knew nothing about zombies," Pitt said. "Now I'm an expert. I was really intrigued with the idea of it and Max Brooks' book. In it we found much more than a zombie film. We found this global apocalypse. A zombie worldwide pandemic.
"Our first problem was: 'how can we crack this book? It travels around the globe.' And two, 'how do we reinvent the zombies? How do we originate our zombies in a field that has been done and done really well?'
"What you'll see is our answer to that. I hope you enjoy it as much as my boys, who are going to love it."
With that, Pitt exited, stage right, leaving Forster to answer the remaining questions, including the reports of trouble on the set and friction with the actor.
Forster denied it was a "troubled" set, but said it was a complicated one, with the pair deciding to go with live extras rather than computer-generated humans and zombies for the many mass-hysteria shots. The sets required 1500 human extras for weeks on end.
"There was never a communication breakdown," Forster said of the reports of bad blood between him and Pitt. "That was false reporting. We re-shot the ending, but it was [because] when we came back and put the movie together, we thought the new ending would actually work better for the movie.
"We, as film-makers, Brad and I, presented it to the studio and the studio was on board."
Forster is regarded as one of Hollywood's top talents, with film credits including Monster's Ball, Finding Neverland, Stranger Than Fiction, The Kite Runner and Quantum of Solace.
The zombie genre is also hot, with the TV series The Walking Dead a huge hit in the US, drawing more than 12 million viewers - an impressive figure considering it is broadcast on the niche pay-TV channel AMC.
"Zombie movies seem to become popular in a time of change," Forster said. "During the 70s when they were popular it was a time of change and today we are in a time of change."
But World War Z is different.
"I wanted to base it very much in reality and make it feel like it could happen today," Forster said. "I love these 70s movies from Romero. The zombies were a metaphor for consumerism, and our zombies are based in more of biology. I love the swarming and flocking of ants and fish.
"The metaphor for me is that there is an overpopulation and there are not enough resources. By 2050 there will be 10 billion people.
There's seven billion now. There's less and less resources for us to sustain."
What: World War Z starring Brad Pitt, directed by Marc Forster
When: In cinemas June 20
- AAP