A quick word with New Zealand stuntwoman-actress Zoe Bell who has two new movies from either ends of the scale. She's in a supporting role in the Tom Cruise sci-fi movie Oblivion and in a starring one in Raze, a female fight flick, which she also produced, and which is premiering at New York's Tribeca Film Festival next week. TimeOut finds her in Portland, Oregon, where she's doing stuntwork on television series Grimm.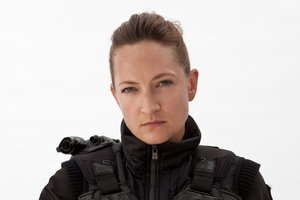 So have you actually seen Oblivion?
No I haven't.
So you're oblivious?
Literally. I literally have not seen anything except for the trailer. I'm in for as much of a surprise as everyone else.
To the best of your knowledge, what's it about?
Oh I know what it is about. It's a bit tricky because I don't want to give too much away but it's about Tom Cruise's character Jack. Basically the world has technically become uninhabitable ...
It's not the sequel to Wall-E?
However much the trailer might seem like Wall-E part 2, it's not. It's about how living on the planet as we know it has ceased. We find out that what humanity believes is not in fact the truth. It becomes a battle for humanity.
From the photos, you look like an underground rebel fighter ....
You are right on the money. There's a group of us and I am the girlfriend of one of the head guys. Morgan Freeman is officially my boss and it's pretty cool to say Morgan Freeman is my boss.
Are you the girlfriend to the guy from Game of Thrones who is in the film [Nikolaj Coster-Waldau]?
Yes exactly, and I am not even going to pretend to pronounce his last name. He was an awesome guy. Really, really lovely and I hadn't been through my Game of Thrones addiction prior to that. I [watched] it afterwards and I was kind of pleased I hadn't because it would have been a more awkward working relationship had I realised just how cool that dude is. I tell you what though, if you are going to be starstruck, Tom Cruise and Morgan Freeman are both huge but they're both pleasantly easy to be around. I am always worried that I am going to have one of those experiences where someone you think is awesome turns out to be a complete prat. It's always great not to be disappointed by people.
Was Oblivion one of those movies with lots of green screen and chasing tennis balls around the room and pretending?
It's funny because it's massively CGI-heavy but one of the things that struck me walking on to the set for the first time is they built these massive sets and the detail is phenomenal on them. So my experience was never in front of a green screen. It's one of the joys of working on a big budget movie - just the attention to detail that is possible.
Did you have your own stunt double in it?
No and I am totally down with it being that way. I came into this part through a stunt connection. We weren't sure if it was going to be strictly a stunt role or if it was going to turn into an actual role but I figured, Morgan Freeman, Tom Cruise, it's worth the gamble. And it turned out it was definitely worth the gamble.
Hope they paid you more for double duty.
It's an interesting world that one. In the past there have been times I have made more as a stuntperson than as an actor just because of danger money. And - don't tell the producers I said this - it's not really about the money for me.
This movie would seem another notch in your belt for your shift from stuntwork to acting.
Yeah it is. I just produced a movie myself and I tell you what, anyone I've met who has made a movie I don't care what it is, if it's a terrible movie. I am impressed.
Is this Raze?
Yeah exactly, and I was the lead in that. So as far as my craft as an actor, Raze was far more challenging, and as far as upskilling it was definitely a notch on my belt. Honestly, just watching Morgan and Tom work, it was like my role in Django Unchained - my role was a cameo at best. I've watched Christoph [Waltz] work before obviously and watching Leo [DiCaprio] work - you just learn by witnessing it, you know?
Raze is at the Tribeca festival in the midnight horror slot right?
Yeah, next week it's our official world premiere. Every day it gets closer I realise how real it is and I get a little bit more excited.
This is a gladiatorial underground women's prison movie?
Yeah pretty much. But it's certainly not chicks in their undies scrapping in the mud.
Oh darn.
Sorry to disappoint you. It was important for me with the help of my colleagues to have female action that had some realism to it. These women are all fighting for someone they love or care about. And just trying to get the emotional realism of what it is to fight to the death ...
That said it's not exactly for the Hunger Games crowd, I take it?
Ha ha ha. Ah no ... .
* Oblivion opens at cinemas today
- TimeOut