Six paintings by Gordon Walters go under the hammer next week, including five from his estate. The sale offers a chance to view works rarely seen by the public, says Adam Gifford.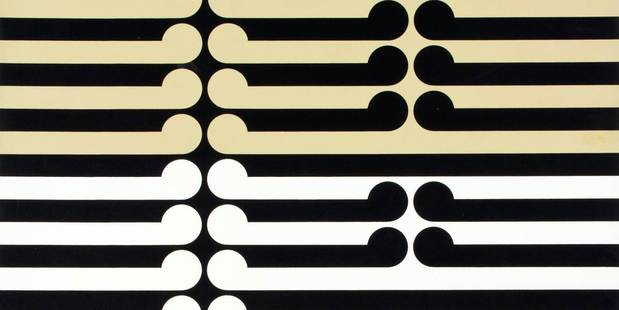 A significant koru painting from a private collection and five paintings from the Walters estate come up for sale at Art+Object next Thursday and are now on display at the auctioneer's Newton premises.
Auctions give the public a glimpse of works that would otherwise be on private display and auction catalogues are one of the few places where our art scholars can practise their trade.
The koru, Tautahi, comes from former Victoria University vice-chancellor Tim Beaglehole, who bought it at the same time as he bought another koru, Kahukura, for the university collection.
The estate works include an early painting that is like an alternate approach to the bar and bulb, one of the Transparency series, a vertical bar painting, a small painting of interlocking forms and an unusual grid from the mid 70s.
"It's like lighting striking three times," says Art+Object director Hamish Coney, referring also to the koru Number 7 that fetched the top price of $433,000 in last year's auction of the Les and Milly Paris collection.
The presence of such sought-after works can raise the temperature of an auction, and Art+Object has assembled its catalogue to take advantage of any heat generated.
As well as work by Walters' contemporaries, including Colin McCahon and Milan Mrkusich, there are two works by younger artists which reference the master abstractionist.
Michael Parekowhai's Kiss the Baby Goodbye turns the Kahukura koru pattern into a black powder-coated steel cut-out, designed so the white of the composition will come from the walls of a white cube gallery.
Andrew McLeod's four-panel Kowhaiwhai Sun shows how the debates over appropriation that centred on Walters' use of the koru haven't deterred younger Pakeha artists from exploring the form.
Looking back, those debates of the 80s and 90s seem to miss the point of his achievement.
Writing in the catalogue, art historian Laurence Simmons argues that in his emulation of the flattened work of kowhaiwhai painters, "Walters is reaching for [not appropriating] forms, akin to those revered in Maori culture, that are simultaneously spiritual and earthy, and to attain this he is drawing upon colours like ochre, derived from tinted clay and one of the earliest pigments used by mankind, and also the predominant colouring agent used by Maori."
While Tautahi refers to Te Potiki Tautahi, who gave his name to Otautahi (Christchurch), Simmonds says Walters' work doesn't rely on contextual association. "Its strength lies in his combination of perceptual subtlety and sensuous immediacy: a delicacy of vision that is achieved through careful chromatic and structural shifts."
In Tautahi, an effortless sequence of rising koru on the left hand contrasts with the struggle of the interrupted rows on the right.
The five paintings from the estate also contain surprises.
Untitled (1975), with its grid of blue and grey diagonals, speaks of Melanesian patterns or the New Zealand logo from the Christchurch Commonwealth Games.
Untitled-Interlocking Forms from 1994 makes shapes perform in unexpected ways, while Untitled-Transparency Painting from 1990 delivers, as Simmons puts it, not the perceptual flicker of Op art by "a conceptual jam of sheer undecideability".
Untitled (1982) does create the Op flicker, as the vertical black bars flex out of the frame. It also shows the artist's adept use of colour - not something people automatically think of with Walters.
So why is Walters so sought-after almost two decades after his death? Why is New Zealand's premiere art prize named after him?
"His work is important because it is work of a high standard, but in the context of the international art of its time, so while it had a New Zealand identity, it was intelligently positioned in the mainstream of modernist art which was international," says Professor Michael Dunn, whose PhD thesis was on Walters and who put together the first retrospective of his work.
"He was not reporting the landscape, which was a big factor in what everyone else here was doing. Walters brought his art right up to date and proved you can do it from New Zealand. He is seen as a benchmark, one of our first."
Walters was born in Wellington in 1919 and trained as a commercial artist. After being turned down for military service in World War II on health grounds he did illustrations and layout for the Ministry of Supply and exhibited some representational works at the New Zealand Academy of Fine Arts.
Through his friendship with Indonesian-born Dutch artist and photographer Theo Schoon he was exposed to the abstraction of European artists who included Paul Klee, Joan Miro, Jean Arp and Piet Mondrian, as well as to the South Canterbury Maori rock art Schoon was recording.
Influences found their way into works like The Poet, exhibited at a Wellington cafe in 1947.
In 1950, Walters travelled to Europe and saw paintings by the likes of Piet Mondrian and Victor Vasarely in the flesh. On his way back he lived in Australia for a couple of years, where he produced his first non-figurative works.
When he returned to New Zealand in 1953, he started inserting Maori motifs into European geometric abstractionism, with the koru forms emerging late in the decade. He worked as a designer for the Government Printing Office, which included laying out school journals, but there was a 19-year-gap between the French Maid Coffee House in Wellington and the first public revealing of the koru series at New Vision Gallery in Auckland in 1966.
"I think he was trying to develop the work to a standard he felt stood up before he exhibited it," says Dunn. "At that first exhibition, Colin McCahon saw and bought one of the paintings, which is interesting because he obviously recognised this was high quality, even if it was in a different area than he was working in himself."
Wider recognition of Walters came slowly, in part because there wasn't much to be seen in public collections until the 1983 Auckland Art Gallery retrospective.
Dunn says there are probably only about 40 large koru paintings, making the emergence of one on the secondary market a significant event.
The process of composition was painstaking, involving the use of cut-outs, ink drawings and gouches to develop the balance of elements he was seeking.
"He worked them out very carefully and if you try to copy them, you realise how finely tuned they are. Everything is exact. If you fudge anything, they don't work."
Auckland artist Mervyn Williams became a friend of Walters after travelling with him to see a major international show in Melbourne in the late 1970s. They continued to Sydney to see a solo show of new Bridget Riley paintings, which was a revelation for both of them.
"You can't understand the optical effects of a Bridget Riley unless you see it full size," Williams says.
He believes many New Zealand critics miss the Op aspect of Walters' work as they try to glean meaning from the forms. Williams later helped produce the high quality screen prints that made Walters' work more accessible.
"We became very good friends. I admired his quiet, dignified way of going about things. He was a very patrician man, very refined, and his work reflects that."
He says every artist who saw the 1966 New Vision show realised the gold standard had been set.
"Gordon is simply of overwhelming importance in the New Zealand context because he took pre-existing imagery and merged it with an international style to create something unique."


Auction
What: Tautahi and five paintings from the estate of Gordon Walters
Where and when: Art+Object, 3 Abbey St, Newton, on show this weekend, 11am to 4pm and until 1pm on April 11; auction starts at 6.30pm on April 11