The creators and voice cast of The Croods talk to Helen Barlow about their cavepeople cartoon caper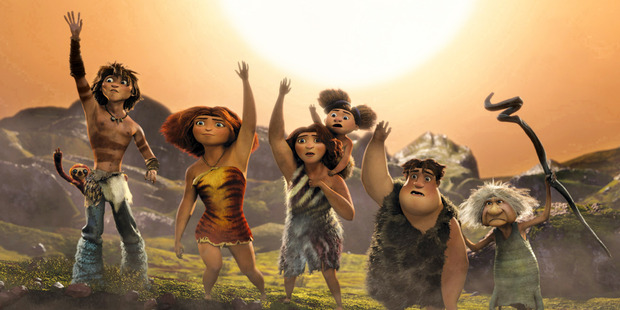 Last Christmas DreamWorks Animation Studios attempted to kick-start a new animation franchise with Rise of the Guardians. Yet despite the screen star voices of Chris Pine and Alec Baldwin and beautifully rendered animation, the mythical superheroes story didn't fly with audiences.
Now the studio has, well, evolved The Croods into that rare animation feature - a family movie about family. But unlike Pixar's The Incredibles, which followed a clever family of superheroes, or even telly's Flintstones from the pre-historic suburbia of Bedrock, the Croods are cavepeople who aren't particularly sophisticated.
"This means we're able to strip away all the clutter, the job interviews, the college education and to focus on what it really means to be a family in the storytelling," says the film's co-director and writer, Kirk DeMicco. "The other fun thing is that cavemen have no filters, they sleep together in a big pile and they knock each other around. They're like big kids."
The adventure begins as the Croods have to broaden their perspective and travel to find a new home following the destruction of their cave. At the same time the strict father, Grug (Nicolas Cage), struggles to control his rebellious daughter, Eep (Emma Stone), who falls for Guy (Ryan Reynolds), a progressive cave-teen.
DeMicco recalls how the fun began when he started writing the story with John Cleese. When Cleese, who ultimately has the story credit, moved on to other projects, How to Train Your Dragon director Chris Sanders came on board as co-director and co-writer.
"The story was all about the fear of change, which relates to how we are today," says DeMicco.
"Technology is moving so fast we're struggling to keep up, whether it's with the new smartphone, or how we've got to get the new app. We're running on this treadmill. So we wanted to look at what happened to a caveman where everything, literally, was changing under his feet, all around him.
"But the one thing that doesn't change and ultimately the toughest thing, is watching his daughter change and how he copes with that. So there are universal themes mixed with a lot of humour. One of the funniest characters is Gran (Cloris Leachman). She had probably lived through the Ice Age by eating her ex-husbands! She's a survivor in the true sense of the word."
Casting Nicolas Cage as the voice of Grug seems a clever stroke as the 49-year-old Oscar winner brings his ebullient energy and big teeth to the ultimately lovable character. The actor still regrets turning down being the voice of Shrek as he didn't want to play an ogre "eating rats and with those ears" but now as a Neanderthal in The Croods he's not necessarily a pretty sight.
"I have played some very unattractive characters so I don't think I am a vain man," Cage says. "But it's interesting to see how other people look at you and, when Jeffrey Katzenberg flew to New Orleans on a private plane and showed me Grug, I had enough presence of mind to know to say yes this time."
Katzenberg, with his love for big stars and their marketing power, was clever in hiring Emma Stone - her husky voice suits her rough-around-the-edges character. Eep is a squat, ginger-headed cavegirl whom the actress describes as: "A complete dream. She is so feisty, and she forges her own path. Also, though it's not my natural colour, I am a great supporter of redheads, as you may know. I would probably be red right now myself if it weren't for having to go off and film Spider-Man again."
Her character is far heftier than the petite actress.
"I didn't mind the chunky legs! She is good and strong. I am strong on the inside," says the 24-year-old who explains that her husky voice came from having colic and screaming so much as a baby.
"When I was younger I was so upset that I didn't sound like a girl. I just wanted to sound nice, I just wanted to have a pretty little voice," Stone chortles, "but I like my voice now. Doing a movie like this makes you realise how much opportunity you have vocally as an actor. Initially, I thought it was just going to be speaking into a microphone and trying to make it sound realistic, but it's really, really similar to acting except for the fact you are in the room by yourself and you are just hearing the other actors. It's surprisingly physical as they are filming you and they are animating based on your facial expressions and your body movements."
The film-makers weren't tempted to have the cavemen dragging the women behind them?
"You know, we were very excited about the opposite," replies Sanders.
"There's a scene in the film where Eep picks up Guy with one hand. I was very interested in having that moment from the very beginning because the deal between the Croods and Guy, of course, is that he's more like us. He's a man of the future; he's all about his intellect."
The Disney-like message of the film is one Stone takes to heart.
"I think we all need to hear that we should be ourselves, that we have to forge our own paths, and be really daring in life. It's funny, but I never related to Disney princesses growing up. The kind of heroines I really like from them were The Little Mermaid and Alice. I loved Alice, she lived on her own terms and in her own imagination. I can really relate to the idea of making your own journey in life, your own way in the world."
What: Animated movie The Croods starring the voices of Emma Stone and Nicolas Cage
When: Advance screenings this weekend. Opens on April 11
- TimeOut, Additional reporting, The Independent