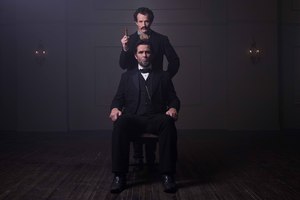 The star of yet another Lincoln movie talks to Lydia Jenkin about his take on playing the beloved US President
In many ways, American character actor Billy Campbell is better qualified to play Abraham Lincoln than the Oscar-winning Daniel Day-Lewis.
The 53-year-old has a voice which sounds much like you imagine Lincoln would have sounded - wise and dignified, not a booming baritone, but a sensitive, engaging tenor.
And he was born and raised in Virginia, the epicentre of the American Civil War and where Lincoln spent most of his presidency.
"I grew up in Charlottesville, not very far at all from where we shot the film, and you can't live in Virginia without sneezing on a Civil War battlefield.
"So, kind of understandably, I grew up as a bit of a civil-war buff, or an aficionado, I guess."
And he's even portrayed a politician gunned down in office - as Seattle mayor Darren Richmond in The Killing, though he survived.
And not only is Campbell from American Civil War territory, but he's had plenty of experience in screen re-enactments, in 1993 movie epic Gettysburg and the 2003 sequel, Gods and Generals, and he's recently finished Copperhead, out later this year.
"Copperhead was a pejorative term for northerners who were opposed to the war, and so I play a copperhead, someone who was vehemently anti-Lincoln, and then not three weeks later, I was playing Lincoln himself."
So Campbell has certainly seen perspectives from both sides of the war and has found something to identify with in each - even finding his apparently opposing characters have more in common than you might suspect.
"I think in Copperhead I could identify with someone standing up for what they believed in. This person, Abner Beech, didn't believe anything was worth ripping the nation apart over and sanctioning, or legalising, the murder of as many people as have died in all the other American wars put together.
"So he stood up for that, for what he believed, and Lincoln was kind of the same strain. He stood up right from the early days of his youth for what he believed in, too."
Killing Lincoln centres on Lincoln's 1865 assassination by John Wilkes Booth and is based on the bestseller Killing Lincoln, by Bill O'Reilly, the host of The O'Reilly Factor on Fox News, and co-author Martin Dugard.
The telefeature is a riveting insight into the conspiracy behind the assassination and the manhunt that followed. Without creative licence, it adds dimension and shading to the two well-known figures. Even a Civil War buff like Campbell learned plenty.
"If I came away with one thing, it was a sense of Lincoln as a warm human being. He was a warm, intrinsically good-humoured person, in spite of it all.
"His life was by many standards already tragic, even before his murder, but in the face of that he was a deeply understanding person and he wanted to be as accessible as possible.
"He was a person of the people and he wanted the public to feel that. Lincoln really knew himself and I think that is perhaps a hallmark of those who are wisest."
It's a National Geographic project (and their first original scripted drama at that), so you can expect high production values and big names - Tom Hanks is the narrator, and it was produced by Ridley and Tony Scott.
But perhaps its standout quality among all the dramas that have covered Lincoln's life or death is an admirable attention to detail and accuracy and a commitment to sticking to the facts.
"I've been a lifelong fan of National Geographic and I was convinced that this would be an ultra-authentic approach to the incident. It's as historically accurate as it is possible for it to be - every line of dialogue in the film is accounted for historically, either through memoirs, or eyewitness testimony, or diaries.
"Every line of dialogue was true, there was no creative licence.
"And the same with the images that are presented - each frame - there are many things that the audience wouldn't even know are historically accurate.
"The wallpaper pattern in the room in which Lincoln dies is the same as the wallpaper in the room in which he actually died. That's the extent to which they went."
Historical events rely on eye-witness testimony and informal written documents, so there are naturally discrepancies, but the film addresses that. Hanks leads us through differences in the eyewitness testimonies, as an example.
"I think one of the best things about this film is that we don't gloss over that difficulty, we try to explain it, and demonstrate it. So I think you could fairly call this the definitive film version of the assassination."
As for that other Lincoln movie, Campbell knows his portrayal of the 16th US president will be compared with Day-Lewis'. But he's grateful the Spielberg film will raise interest in his tele-movie.
"I haven't seen the Lincoln film but from what I understand, the two things might be highly complementary."
Lowdown
Who: Billy Campbell
What: Telefeature Killing Lincoln
When and where: Sunday, 7.30pm, National Geographic Channel
- Additional reporting AAP