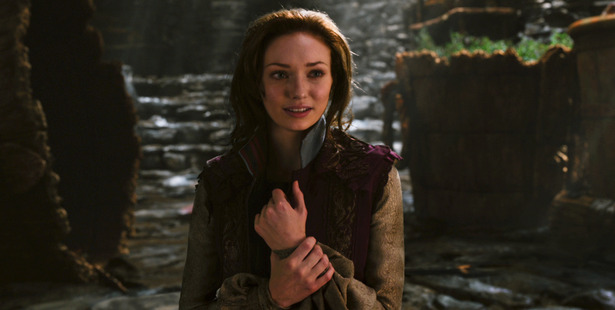 Jack and the Beanstalk has been a beloved bedtime read for countless generations. Now Bryan Singer, the director behind X-Men, has added a new, grown-up twist to the fairy tale.
Over the last few years, Hollywood has seemingly fallen in love with fairy tales, with Red Riding Hood, Snow White, Beauty and the Beast and Hansel and Gretel all returning to the screen in various guises.
The latest children's classic to get the Hollywood makeover is Jack and the Beanstalk, with the fable given a whole new lease of life in the towering, 3D action adventure, Jack the Giant Slayer.
For its director, Bryan Singer, whose previous films include Valkyrie, The Usual Suspects and the spectacular, comic-book superhero adaptations X-Men and Superman Returns, the appeal of retelling Jack and the Beanstalk was the opportunity to revisit a childhood favourite.
"Aside from animated drawings, storybooks and a Mickey and the Beanstalk film, there's never been a full-scale, live-action, visual realisation of the Jack and the Beanstalk imagery," he explains, animatedly. "I wanted to change that, because what appealed to me about the story, as a kid, is how deceptively simple the tale was and yet how fantastic and full of potential it was, too.
"Making this also reminded me of the films I loved watching when I was growing up, like Journey to the Centre of the Earth, the original King Kong and all those fantastic Ray Harryhausen films, like Jason and the Argonauts," adds Singer, fondly. "Those were films that took you to other worlds, where weird and wonderful creatures lived, and they also introduced me to stop-motion, which I fell in love with. So, I wanted to recreate that feeling with Jack the Giant Slayer."
Consequently, Singer decided he wouldn't faithfully follow the original Jack and the Beanstalk fairy tale. Instead, he's conceived a whole new world atop the beanstalk, where giants roam the ancient, long-lost land of Gantua while humans dwell below in the sheltered hamlet of Cloister. He's also tweaked the original tale into a heroic, action-adventure yarn, with Jack (Nicholas Hoult) becoming a have-a-go hero who gallantly rescues princess-in-peril, Isabelle, played by Eleanor Tomlinson.
"Yeah, I didn't worry too much about geese that laid golden eggs or singing harps," admits Singer, shrugging dismissively. "They're still in there - in a fun sort of way - but, really, I just wanted to make a film where the story was completely original, so that you don't know what to expect when Jack gets to the top of that beanstalk."
Similarly, for Hoult the chance to clamber up a beanstalk, battle mythological, marauding giants and play a heroic lead character was too good to be true and he leaped at the opportunity.
"I love adventure films and I like escapism. I think it's good to go to the cinema and be completely transported by what you watch, and that's exactly what Jack the Giant Slayer does," he says. "Also, from an acting point of view, to be able to go and experience something completely different, like this, where they've built a massive beanstalk - and your job is to go and climb it - is really exciting."
However, clambering up a precipitous, purpose-built 15m-high beanstalk wasn't all just fun and thrills. There were also plenty of pitfalls, and spills, as Singer reveals. "It was incredibly difficult filming actors that high up and there were real safety issues involved, because of the possibility of someone falling. That actually happened a few times, during the rainstorm scenes, but luckily we'd taken precautions and everyone was harnessed-up and attached to tethers, so they could only fall a few feet before the tethers caught them.
"There's also production difficulties involved when you have actors that high up. For example, when you see Jack and Princess Isabelle on the beanstalk and their hair is blowing around, as if in a breeze, we actually had to use very powerful, directional air mortars aimed directly at the actors so that we could get that hair movement," explains Singer. "They were incredibly loud, so although the actors were just a couple of feet apart, they couldn't hear a word each other was saying."
"Yeah, we'd be up there and these wind and rain machines were blasting air and water at us, so we couldn't hear anything," recalls Hoult. "Also, you couldn't open your eyes because of the water smashing into your face, so it was hard enough staying up there, let alone act. In fact, the main notes I got from Bryan, for the beanstalk scenes, were 'try to keep your eyes open' and 'make sure you scream your lines out!' It was crazy."
Conversely, for Tomlinson, in her first lead role, the chance to climb beanstalks, perform breathtaking stunts and battle giants alongside Hoult in a swashbuckling, Hollywood blockbuster was bliss.
"I loved it. It was an amazing experience doing this film. I did all the physical stuff you see, except for some of the more insane stunts, which they wouldn't let me do," she says. "I loved all the training that was involved, to get us into physical condition to do those stunts, too. We did two months of intensive training before we started filming, including rock climbing every day and scaling the beanstalk, which was in the middle of the studio. Actually, that was part of what attracted me to do the job - that I'd be able to do all these stunts and have to train myself up to do everything that the role required."
Her willingness to literally throw herself into the role makes Tomlinson's portrayal of Princess Isabelle more Xena: Warrior Princess than the more demure princesses typically found in fairy tale films.
"We wanted her portrayal to be different and striking, so she's feisty and not afraid to stand up for herself," explains Tomlinson.
"It was fun creating that strong, feisty side to her, especially as I'm similar to her in that way, in that I'm a bit of a tomboy too."
Together with Hoult's gung-ho heroics, spectacular 3D effects and commanding performances from Bill Nighy as the two-headed leader of the giants and Stanley Tucci's over-the-top portrayal of the villainous Roderick, it makes Jack the Giant Slayer a rollicking good yarn - one that's both believable and fantastical, all at the same time.
- TimeOut