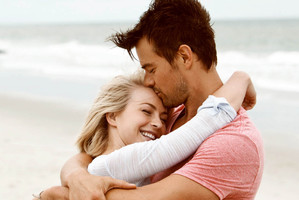 This is the seventh adaptation of a Nicholas Sparks novel. He's almost become a romantic drama sub-genre, so it will come as a great comfort to many, a disappointment to some, and a surprise to no one, that Safe Haven follows a familiar narrative and features plenty of Sparks' trademark romantic moments.
At the helm is Swedish director Lasse Hallstrom, who is familiar with the Sparks oeuvre having directed previous Sparks' box office hit Dear John. The plot involves two devastatingly good looking people who meet, frolic in a rain shower and fall in love, only to face a hurdle they must overcome so they can live happily ever after.
To be fair, it's slightly more complicated.
Safe Haven begins with a bloody, terrified young woman running from a house. Helped by a neighbour she cuts and dyes her hair and skips town on a bus, ending up in a sleepy seaside town in North Carolina where the sun shines and the people are accepting. Though initially she keeps to herself she's eventually drawn into a romantic relationship with local widower Alex (Duhamel), and befriends an unusual loner, a woman called Jo (Cobie Smulders).
The relationship hurdle comes in the form of Detective Tierney (David Lyons), who has been pursuing Katie since the house incident. As Tierney closes in on Katie her dark secret is revealed through flashbacks, and it's clear the past needs to be resolved before Katie and Alex can frolic on a more permanent basis.
The set-up and twists and turns of this story are pretty easy to detect, (with one possible exception), so the success of Safe Haven comes down to the chemistry between the lead characters. Luckily then, in particular given the lengthy running time, Hough (Rock of Ages) and her considerably taller co-star Duhamel (Transformers) smoulder commendably on screen.
If you're a fan of Sparks, and like-minded feel-good romantic dramas, Safe Haven will deliver what you know and love; everyone else should be well warned by now.
Stars: 3/5
Cast: Julianne Hough, Josh Duhamel
Director: Lasse Hallstrom
Running time: 115 mins
Rating: M (violence and sex scenes)
Verdict: Another typical Nicholas Sparks adaptation
- TimeOut