Serial killer Joe Carroll is a complex character to play, James Purefoy tells Lydia Jenkin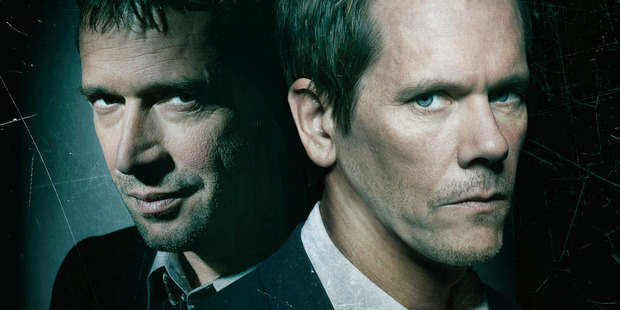 On set in New York, halfway through filming episode 12 of thrilling new drama series The Following, actor James Purefoy gets a break to chat with TimeOut about inhabiting the mind of charming serial killer Joe Carroll.
The most immediate question seems to be: what would convince a successful actor to commit to a potentially long-running television role as a serial killer, especially one as chilling as Carroll?
Laughs Purefoy: "I'm not so sure if I wanted to play a serial killer specifically, but there were a few reasons why I wanted this job. One was [show creator] Kevin Williamson, another was [co-star] Kevin Bacon, but the script, which I thought was a really interesting, gripping page-turner, was a big one. You just never knew what was going to happen next and still I don't know - we're 12 episodes in!
"The character is an enormously complex, multi-faceted man, and if you're signing up for a job for a long period of time, you want to make sure that character has a lot of places to go. Joe Carroll certainly does."
Having risen through the ranks of British acting, on stage and screen, Purefoy made an international name for himself playing supporting characters in A Knight's Tale and Vanity Fair, before landing the part of Mark Antony in TV series Rome.
Now he's a charismatic English literature professor, who worships Edgar Allen Poe; the author's work has influenced Carroll's killing of 14 women.
He's not the usual creepy weirdo one might think of as a serial killer; he's clever, with a strong grasp on human nature and how to manipulate it, and that's what draws the audience in.
"Carroll is a white-collar serial killer, like Ted Bundy was - he was very charming, and nobody for a second believed that he did the things he did until it was way too late.
"Carroll is fascinating because his sanity and insanity sit very precariously on a knife-edge."
Bacon has been drawn to the small screen to take on the co-starring role of FBI agent Ryan Hardy - the hardened lawman who finally managed to catch Carroll.
The pair have an intense relationship, with Hardy both drawn to and repulsed by Carroll, and Carroll determined to keep Hardy's attention.
The extra angle to the plot is that while Carroll has been locked away, he's still been gathering "followers" via the internet, creating a web of people willing to do his bidding, and becoming a sort of cult leader.
"It is very scary, because none of them are forced to do anything. He offers them a safe place ... to explore their desires and fantasies, albeit that those desires and fantasies are to the rest of us, appallingly wrong. And that's what makes him such a dangerous person."
Also making him diabolical is his Edgar Allen Poe fixation - Carroll takes Poe's notion that the most beautiful thing in the world is the death of a beautiful woman, and acts it out, with verses from Poe and a few other gothic poets used as clues and directives.
"The whole Poe thing is quite interesting - some serial killers are very good at building an alternate reality around themselves that they 100 per cent believe in, and Joe kind of justifies his psychotic behaviour through this gothic writer, and hangs his behaviour on what he believes Poe was addressing.
"We can't blame Poe, of course, but however absurd and mad that might seem to us, to Joe it seems perfectly sane and perfectly rational."
Who we can blame for Carroll's behaviour is a rather more difficult question, especially as the show's writers are keen to release details of Carroll's past only a smidgen at a time.
"We do get little glimpses, but they want to keep the audience guessing as to why he does it. I have written a very long and very involved back-story for him, which is obviously incredibly dark, and actually frankly much darker than I can afford to tell journalists about, because it's very, very bleak, and I'm not sure if I want people to realise how dark my mind can go," Purefoy explains with a laugh.
Given that he sat in a dark room, watching interviews and reading about serial killers for a week in preparation for the show, you might expect Purefoy's mind to have discovered some rather darker corners than usual, but that doesn't mean he's become any less affected, or numb to the violence his character wreaks.
"I never become blase about it, that's for sure. To me, violence is sickening and nasty and deeply unpleasant, and I've always felt to show it in a flip or ironic way does a disservice to the victims of violence. I think if you are going to show it, be real about it, because it's horrible.
"And I think, actually, perhaps it's not such a bad thing that we show it for what it is, and show the effects and the aftermath. Maybe we've become too used to a diet of ironic violence, or cool violence, or stuff that makes actors look sexy, and I'm not particularly interested in that, I'm much more interested in the honesty of it."
Who: James Purefoy
What: New TV show The Following
When and where: Starts Monday, February 11, 9.30pm, TV One
- TimeOut