Movie bosses are often accused of relying too heavily on reboots, but Dominic Corry can still pick several great 1980s films which deserve a Hollywood makeover.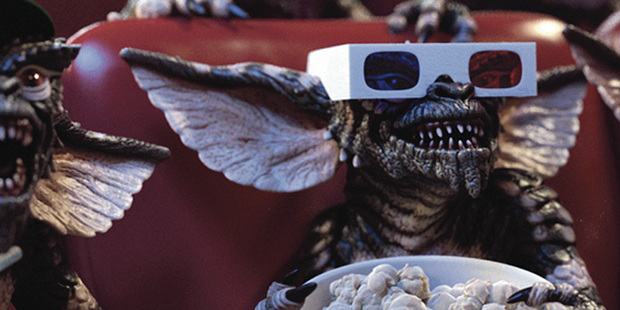 It's easy to attribute any perceived dearth of good mainstream movies to Hollywood's over-reliance on remakes, reboots and sequels. But when these films fail creatively, it's always for the same reasons that any original film fails - they fudged the execution.
Films based on existing material aren't inherently bad, they just tend to be. But I like to try and keep an open mind about such things, with good reason.
So when the rumour emerged recently that Warner Bros. are once again considering rebooting the 1984 black comedy classic Gremlins, I got pretty excited by the possibilities.
The original film remains an enduring delight and was surprisingly dark for an Amblin Entertainment production.
The just-as-good sequel Gremlins 2: The New Batch was crushed by 1990 summer blockbuster rival Dick Tracy and remains criminally underappreciated.
While nothing is clear about the project at this stage, I'd prefer a Gremlins sequel over a remake. But my principal demand is that Joe Dante be hired as the director.
Dante made some of the most dazzling films of the late '70s/early '80s genre filmmaking boom (like Piranha; The Howling; Explorers and the best section of Twilight Zone: The Movie) and the two Gremlins films exist as the purest expression of his unique sensibilties. But unlike fellow Spielberg protege Robert Zemeckis (Back To The Future; Forrest Gump), Dante eventually fell out of favour with the studios and hasn't helmed a high profile film since 2003's Looney Tunes: Back In Action.
He continues to direct however, and achieved some recent success with The Hole, a throwback to the style of his earlier work that is very much worth checking out. An insanely knowledgeable genre film historian, Dante is also behind the frankly wonderful website Trailers From Hell, where he can regularly be seen extolling his profound love for genre films of old.
Getting him involved with a new Gremlins movie is the absolute right thing to do, but even though Amblin will be behind the movie, it can't help but seem unlikely at this point. There isn't a better person to bring the Gremlins into the twenty-first century, and my mind postively swims with the potential.
But what other '80s movies would suit a modern mounting? Contrary to popular belief, not every single '80s movie has been remade or rebooted - here are some I would like to see.
While the plot of 1984's The Last Starfighter is entrenched in the now faded popularity of the video game arcade, you could easily argue that with the massive popularity of home gaming, it's a story even better suited to now.
The premise speaks to the heart of youthful wish fulfillment - a distant alien race uses a corner store video game to recruit pilots for it's interstellar war. Lance Guest (Jaws: The Revenge) plays a dreamer who breaks the high score on a game called Starfighter, and finds himself whisked off to another galaxy to shoot spaceships for real.
Such recruitment methods make even more sense now with the complexity of PCs and home gaming consoles, and there's a wealth of possibilities for how this could play out. 2010's Tron: Legacy completely failed to harness the cultural power of the modern gaming age, it's up to a reboot of The Last Starfighter to right that wrong.
1985's D.A.R.Y.L. isn't particularly well-remembered, but it got mentioned a few times as a amusing point of comparison when Steven Spielberg's A.I.: Artificial Intelligence was released in 2001.
It's about a ten-year-old boy who comes to live with a foster family who eventually realise he is a government-created robot unaware of his own origins. It's a pretty hammy concept buoyed by some classically '80s familial comedy beats. The film endeared itself to boys everywhere with the undeniably awesome image of super-intelligent Daryl flying a fighter jet. And kicking ass at Pole Position.
A reboot would have to work hard to overcome the overall insanity of the plot, but my enduring love for this film makes me wanna see one anyway. And like The Last Starfighter, you could argue the story makes more sense in this day and age. Or the near future at least.
There have been several aborted attempts at a sequel to 1985's Spielberg-produced The Goonies, but a reboot might suit the property better. With most child-centric movies focused on grand fates and magical legacies, it could be a nice point of difference to see a bunch of hard-scrabble kids with no special powers searching for treasure and taking on smugglers.
Speaking of modern movies trends, the studios emphasis on well-known fantasy properties and YA book adaptations, it's remarkable that we haven't yet seen a reboot of The NeverEnding Story. The original 1984 film (starring D.A.R.Y.L.'s Barret Oliver) remains a revered classic (the sequels, not so much), but a reboot could take more direct inspiration from the source material and mount a grand new vision employing modern production techniques. Admit it, you're intrigued.
The often-mooted reboot of the 1986 cult classic Highlander was set-back late last year when the currently-attached director abandoned the project.
But the studio is apparently committed to the film and Ryan Reynolds (Two Guys, A Girl and a Pizza Place) remains attached to play Connor MacLeod, an immortal warrior confronting his fate.
This film remains intruiging simply for how royally they messed up the Highlander sequels, which contradicted each other and ran the franchise into the ground. The recent vampire boom has explored the lives of immortals to some degree, but a new Highlander film could do some interesting stuff with the emotional strain of living forever. Clancy Brown must be involved.
Reboots of '80s horror classics The Blob and The Fly (both remakes themselves) have been planned, then abandoned. I would love to see both these properties revisited. David Cronenberg, director of the 1986 The Fly, came tantalisingly close to revisiting his own film. That would've been awesome.
Cult classic monster movie Tremors may have been released in 1990, but it positively teems with '80s genre fun, and is one of my favourite movies of any era. The film flopped in theatres but made a heap of money in the home video market, and there was a surprisingly good direct-to-video sequel in 1996. A couple of further sequels and a TV show weren't hugely awesome.
Despite this widescale mining of the material, I would LOVE to see a big screen reboot of Tremors.
Do you think a Gremlins reboot is a good idea? Which '80s films would you like to see rebooted? Is it too soon to start discussing a Die Hard reboot? Comment below!