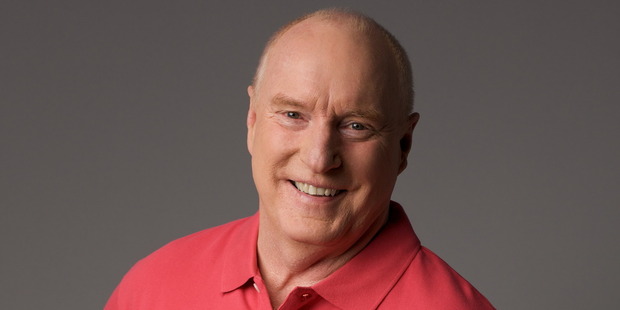 Stone the flamin' crows, it's Alf Stewart on the line from Summer Bay. Okay, so it's Ray Meagher, the actor who plays the Aussie institution from long-running soap, Home and Away.
The show celebrates 25 years on screen this year, and he has been there the whole time. But all Alf, I mean Ray, wants to do is talk about rugby, specifically Australian coach Robbie Deans.
"I'm not sure what Deans is doing," he says. "I'm not sure if, when he was at Canterbury, he just had a whole paddock of half-backs and five-eighths to choose from, so that if someone got injured he just got another one who was just as good. Australia just don't have that depth, but anyway, I'd swap your team for ours any day."
Meagher is a big rugby fan and, funnily enough, his club rugby days are one of the inspirations behind Alf's many famous Aussie sayings, such as "stone the flamin' crows", "you flamin' galah" and "strike me pink".
"Rugby dressing sheds are interesting places, particularly at club level, and there are all sorts of characters and they come up with all sorts of things."
The 68-year-old, who is cheery and chatty, and sounds like Alf without the gruffness, also draws inspiration from his years growing up in the bush on a sheep and cattle station in north western Queensland.
"There was a stock and station agent out there called Dick Backhouse who is no longer with us. He used to drink rum and coke, and the longer he drank, the less coke and the more rum was in it. He used to get 'stone the flamin' crows' into one sentence about eight times very easily. I was very young when I first met him, but I remember that expression well, because he was such a character.
"There was also a famous Australian comedian named Roy Rene who played a character, Mo McCackie, who was a bit like Fred Dagg, only well before him, and he used to say, 'Strike me pink', which extrapolated means, 'Strike me until I'm pink'. And he used to say, 'Strike me lucky', too. And this bloke, Bill Kean, who was also from the bush used to do variations on those, like 'Strike me flamin' handsome'."
Of course, there is more to Alf than his fair dinkum Aussie sayings. In Summer Bay he's done everything from being the bottle shop owner to a barman and fisherman. Just before the current season ended, he was even helping - albeit reluctantly - to organise a hens' night.
"If anything was happening in the bay over the years, he has been the go-to man to get on your side or behind the issue," says Meagher. "He is definitely a Summer Bay man through and through - his version of Summer Bay, though," he laughs.
And despite being grumpy ("He can fly off the handle pretty quickly without having all the ducks in place") he has a heart of gold ("He would help anybody, who he believes in, if they need a hand").
Before he started on Home and Away in January 1988, Meagher had been an actor for almost 20 years, doing around 30 feature films, a number of TV series and theatre work.
"I liked that freelance thing too, because I was lucky enough to be busy in that world," he says.
When Home and Away came up, he was wary of signing a two-year contract for the fledgling soap and managed to convince the producers to sign him up for six months.
"I live in Sydney, and a lot of these other shows were all over the place and I was travelling forever and thought, 'Oh, it might be nice to be home for six months'. But they flew, and then it was a year, then three-year contracts."
And he's stayed ever since. Along the way he's done other films and theatre work, including annual stints doing pantomimes in Britain ("I just thought, 'Oh, that sounds like fun'."), and since 2007 he has starred in Priscilla, Queen of the Desert on London's West End. This Christmas was the first time in 23 years he's been at home.
Like Alf, Home and Away has become an Australian institution, and it's popular here too, in its 5.30pm weekday spot on TV3.
Its enduring popularity has a lot to do with the stunning setting and parade of hot babes and lads along the beach. But over the years it has moved with the times.
"No show is going to last in prime time in any market for 25 years if it stands still," says Meagher, "and I think what we've done over the years is constantly reinvented ourselves with the technology available and the stories. They've kept it really fresh in all areas."
In similar style to that other famous soap, Coronation Street, it has also become a little more raunchy in recent years. Remember the kerfuffle over the lesbian kiss between copper Charlie Buckton and deckhand Joey Collins a few years back?
Then there's the drug-taking, and other criminal activity that has corrupted Summer Bay and pushed the boundaries of the show's early evening time slot.
And sometimes it's even got a little too racy for Meagher, who believes the show may have overstepped the mark at times.
"We may have gone a little too far from the original concept, and the balance gets a little bit out of whack sometimes."
In fact, he says, sounding just like Alf might, he'd like to see more of a return to character-driven storylines and traditional Home and Away fodder. You know, like a good old-fashioned surf carnival.
"You can't have fist to the forehead, turgid teenage love stories, or people with guns in peoples' faces and shoving drugs down their throats all the time. I guess I like to see a belly laugh every 10 minutes, and then a few smiles along the way."
Who: Actor Ray Meagher, who plays Summer Bay local Alf Stewart
What: Home and Away, 25th anniversary season, starts Jan 21, TV3, 5.30pm
- TimeOut