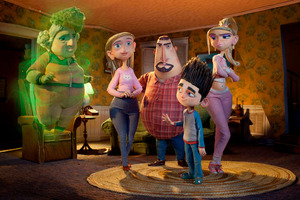 From Laika, the animation company that brought us Coraline, comes another impressive stop-motion animation - the darkly comic horror film ParaNorman.
Filled with misfits of both the human and supernatural kind, ParaNorman is a story that reminds us it's the things that make us different that can also make us heroes.
Norman (Smit-McPhee) is an 11-year-old boy who is bullied at school for his ability to see dead people. It's a family trait; his reclusive, black-sheep uncle (Goodman) also sees ghosts and is the one to tell Norman about the centuries-old witches' curse that affects their small New England town.
While Norman's talent makes him the local weird kid, his supernatural powers turn out to be just what his town needs when a vengeful witch and her loyal zombies are unleashed on them. It's up to Norman and his eclectic band of sidekicks, including the fat, freckly kid Neil (Tucker Albrizzi), Neil's older brother, Mitch the jock (Casey Affleck) and Norman's cheerleading sister Courtney (Anna Kendrick) to put these ghosts back in the ground.
The animation is terrific. It's the second-ever stop-motion animation to be created in 3D, and along with the distinctive design of the characters - which in a fun way, borders on grotesque - and the brooding gothic nature of the story, ParaNorman is unique and wonderfully detailed. It's also well-written, with plenty of gags to appeal to adults as well as kids.
This might be a family flick, but British directors Sam Fell (Flushed Away) and Chris Butler haven't been afraid to make their horror film genuinely scary at times. Pre-schoolers might find it too much, but for older kids without ghost or zombie issues, ParaNorman will be one of the more enjoyable holiday flicks.
Stars: 4/5
Voices: John Goodman, Kodi Smit-McPhee
Director: Sam Fell and Chris Butler
Running time: 93 mins
Rating: PG (scary scenes)
Verdict: Weird is good in this smart, fun, ghoulish animation
- TimeOut