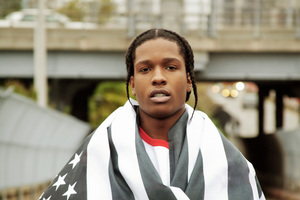 The breakout hip-hop star of 2011 hardly made a dent in 2012, thanks to an arrest, a beef with fellow rapper SpaceGhostPurrp and the constant delays to this, his major label debut. But A$AP Rocky - known as Rakim Mayers to his mum - has dived into 2013 head-first, thanks to his frequently sensational long-player, LongLiveA$AP.
The formula used on A$AP's hugely popular mixtape LiveLoveA$AP hasn't been messed with: the New York rapper sounds best when rhyming over rolling waves of increasingly threatening bass, like the Bone Thugz-N-Harmony-aping PMW (All I Really Need), the doom-laden lope of Jodye, the now-ancient single Goldie, and the chirpy thump of the title track.
Sure, he doesn't have the storytelling authority of Kendrick Lamar or the braggadocio of Kanye West, but what A$AP has is style - and lots of it. "Bag made of Goyard, cheffin' like I'm Boyar-Dee," he name checks in 1 Train, a fantastic old-school romp featuring six minutes of superior guest spots from the likes of Action Bronson, Joey Bada$$ and Lamar. Clams Casino, Hit-Boy and DangerMouse chime in with top-notch tracks, but the real standout is Wild for the Night, a grimy, dubstep-infused dancefloor filler produced by Skrillex.
Gold moments like that prove A$AP Rocky's future is as shiny as the grills he wears over his teeth.
Stars: 4/5
Verdict: Much-delayed debut proves hype was worth it
Click here to buy a copy of LongLiveA$AP.
- TimeOut