Sydneysiders the Presets are bringing their small line-up with a big sound to see in the New Year in at Rhythm and Vines, reports Lydia Jenkin.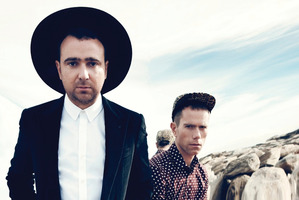 Calling established Australian duo the Presets a dance or electronic act doesn't quite do them justice. Yes, they've built a reputation for getting the sweaty masses moshing over their 10 years together, and yes there's a fair number of keyboards, synths and mixers involved when they take their pulsating bass and catchy melodies to the stage, but they're as much a live band as they are a studio creation. Julian Hamilton sings playful, thought-provoking, literary inspired lyrics, and Kim Moyes' drumming is inspired by all manner of things, and they both manage to play and trigger multiple layers of instrumentation at the same time.
It's a sound that's seen them tour the world, and also earned them a bunch of accolades. Their second album Apocalypso won seven Aria awards - and made them the first electronic act to win Album of the Year - and their recent follow-up Pacifica is also earning strong reviews.
The litmus test of course, is how the punters respond when they play the new tracks live, but as Moyes explains down the line from a Chicago hotel, during their North American tour, they're definitely open to them.
"It's been really positive actually. There's always going to be a bit of a difference to the songs that everybody knows or are favourites, and then the songs that are brand new, but as long as they don't walk away, you know that you've got it in the bag pretty much.
"We made a conscious decision after [Australian festival] Parklife and at the beginning of this North American run where we just thought, let's just own those moments, and it's really proven to be great."
It helps that these guys make tracks which are somehow both immediately accessible, but also layered with intelligence. Their inspirations come from wide-ranging subject matter - history, literature, news items - and the pair are proactive about merging the world of a dance party with intellectual commentary.
"A lot of the subject matter of this music is often, 'I'm gonna have the best night, party, party, party, let's get drunk" and it's pretty vacuous and empty, and I think as listeners, we like the energy of that stuff, and the permission that it gives to people to forget about their day for a night, but I guess we've also always liked music that has a lot of layers to it. So whether it's inspiration from current affair topics or books like Leviathan by John Birmingham or whatever, it's all fair game."
Pacifica has a subtle theme threaded throughout, looking at the darker side of Sydney and Australia, whether that be historic or current. Album opener Youth in Trouble takes a tongue-in-cheek look at the media perpetuated notion that the world should be scared of youth and scared for youth (especially the ones who like dance music). Ghosts has a sea-shanty feel, and is a nod to Australia's birth and its past inhabitants.
"That sea shanty was a thing that Julian stumbled upon when he was sketching out that song. He'd put down these really fast techno Latin rhythms, and then just started singing this funny sea shanty melody over the top.
"It was something that was particularly Australian-sounding to us, and also reminiscent of that sort of colonial past we have."
As Moyes mentioned, John Birmingham's Tarantino-esque history of Sydney, Leviathan was also an inspiration, particularly for A.O. (Adults Only), and fulfilled a wish they've had for a while to write a song specifically about their hometown.
"Jules and I have felt that sometimes the idea of Sydney or the portrayal of Sydney, and people's perceptions of it, you know this really fun, beautiful, town - which it is, definitely, but it's just one side, and I guess we've picked up on this undercurrent of fear and darkness there as well. I guess it's pretty prevalent in most cities, and I guess we just kind of wanted to give that a bit of an expose."
The pair also note fellow Australian act the Dirty Three as an inspiration, not in a direct musical sense (though there are some reversed violin and cello sounds on the album), but in the imagery they create and atmosphere they project in live shows.
"I've been listening to them and seeing them perform for years, and I've always found when I go to a show of theirs, I feel like I'm somehow transported to the moment when the convicts first stepped off the boat on to Australian land, and they've just picked up their instruments and started playing. It's really wild and sort of spiritual purging, it's quite dark and almost like a colonial sort of voodoo."
Colonial voodoo isn't a phrase you'd hear being bandied about by dance floor maestros too often, but the pair are always looking for ways to challenge conventional notions of club music.
"You look at dubstep or drum 'n' bass or house or techno, or any top 40 stuff, and it becomes very conservative and stylised very quickly, and so for us, I think as a point of difference it's always been important to try to look for ways to inject individuality into all those styles - even though we love them, and they're where we come from.
"One big thing this time around was the idea of being proud Australian electronic artists. When we first started out we weren't interested in being labelled as an Australian band. But this time we were like 'f*** it', no one else is doing it quite like this so we might as well be proud of being Australian. And people seem to be responding to it."
Who: Australian duo The Presets
Latest release: Pacifica (2012)
When and where: Rhythm and Vines festival, Dec 31, Rhythm Stage, 11pm until midnight
- TimeOut