Liam Neeson explains to Michele Manelis why he's back for more kidnap mayhem in the sequel to his action hit Taken.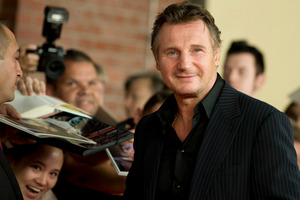 No one was more sceptical than Liam Neeson about the idea of a sequel to his 2008 hit, Taken.
The action thriller, which took in US$225 million ($274 million) at the box office, starred the Irish actor as a CIA operative whose daughter (Maggie Grace) was abducted by Albanian gangsters while on vacation in Paris. Neeson played a softly spoken yet brutal agent who stopped at nothing to rescue her - he murdered, maimed and tortured his way through the City of Light. It was exciting, certainly, but surely a once-in-a-lifetime occurrence.
"Well," says Neeson, "when Luc Besson first suggested it, I was like, 'Please, come on! How on earth?"' he recalls. "But then Luc explained the storyline and that it was about revenge and I realised it would be believable enough to work. Plus it's set in Istanbul, which is a very exotic and wonderful backdrop for the movie."
Besson, the action king of French cinema, best known for La Femme Nikita, Leon: The Professional, and The Fifth Element, co-scripted and produced both Taken movies.
In this instalment, it's Neeson's character who is grabbed, along with his ex-wife, played by Famke Janssen.
The manner in which Neeson plays this stoic hero is reminiscent of characters inhabited by Harrison Ford and Clint Eastwood. He's an otherwise ordinary middle-aged man, whose "particular set of skills" are continually put to the test.
Says the film's French-born director, Olivier Megaton (yes, his real name): "Liam Neeson's character is the modern day superhero. The father-next-door is the new hero all over the world. The audience sees someone close to them and it's easy to project and to identify with him. And Liam has this normality and charisma at the same time.
"And yes, the role is not far from Ford or Eastwood, but Neeson is not American, so he gives the character another touch. It's a realistic approach.
"Not to say that Americans aren't gentleman, but Liam is not only tough but there's also a generosity, maybe even a sweetness to him."
Neeson thinks the superhero tag is overstating things.
"No, I don't see it that way. He's a normal man and that's part of his success, I think. He's an over-protective dad. He's not some superhero."
"The thing is, I know two guys who are trained to do the stuff that he does and they do it. They have a switch that when they go out into the field to do what they're trained to do, it's a take-no-prisoners method. But there are guys like this. These guys are real."
This theatre-trained actor never imagined his career would take on the life it has, especially at age 60.
In recent years he's starred in the action movies Unknown, The A-Team, Battleship, and The Grey.
"It's a surprise, let's put it that way. I think if I was about 30 I would have loved this action hero thing. It wasn't to be, but it's great now. I don't know how long it's going to last, but they are still sending me some action scripts."
An impressive body of work, he's been nominated for an Oscar, a Bafta and three Golden Globe awards, and has starred in such notable movies as Schindler's List, Star Wars Episode 1: The Phantom Menace and The Dark Knight trilogy.
"When I became a professional actor - I was 23, I think, and it was repertory theatre in Belfast so it was a play every four weeks - I thought the height of my ambition would have been to join the National Theatre or maybe the Royal Shakespeare Company. I couldn't think beyond that. That would have been my dream."
A boxer in his youth, Neeson is in good physical shape.
"I still train with a heavy bag that I use quite a lot, kettle bells, I use those a lot too. And I like old fashioned push-ups and sit-ups. You can't beat those old-fashioned things," he smiles.
Away from work, Neeson is a single father of two teenage sons: Micheal (17) and Daniel (16), raising them in Millbrook, New York. He's remained single since his actress wife, Natasha Richardson, died tragically of a head injury in 2009.
For now, Neeson says there won't be a third movie in the series.
"No way could we do another Taken. What could the plot be?" he asks.
At the suggestion that his daughter's boyfriend could be grabbed in a next film, he laughs. "Oh yeah. Please take him. Or, maybe my car gets taken ... maybe I'll have a word with the director."
Who: Liam Neeson
What: Taken 2
When: Opens in cinemas on Thursday

-TimeOut