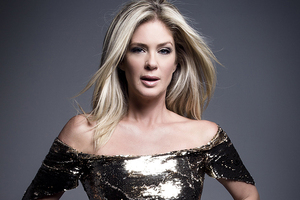 Rod Stewart had to have counselling when Rachel Hunter left him.
The Maggie May singer was devastated when the Kiwi model left him in 1999 after nine years' of marriage and admits he had to get professional help.
But Stewart admitted he had to change therapists after the first one hit on him.
Stewart - who has two children, Renee, 20, and 18-year-old Liam, with Hunter - said: "Although the first counsellor was a joke. She came on to me."
Although he was hurt, the You Wear It Well hitmaker - who has fathered eight children with four different women - knew it was what he deserved because he had treated women so badly in the past.
He told the Daily Mail newspaper: "I knew it was my comeuppance.
I'd broken all these hearts. It was my turn. But it bloody hurt."
He said Hunter left him because she felt trapped.
"She was so young. I wouldn't use the word 'imprisoned' but that's the idea of it. I liked formal dinners, getting dressed up and meeting on the staircase," he said.
"She wanted, I discovered later, to be like a normal kid, dressing in her jeans."
The 67-year-old rocker is happily married to model Penny Lancaster - mother of his two youngest children, Alastair, six, and 19-month-old Aiden - and said they have regular date nights to keep the spark in their relationship.
He said: "Penny's getting ready now. A chef is cooking us dinner, which we will have on our balcony, which opens off the bedroom. When we are done we will send him home and ... she'd kill me if she knew I was telling you this, but Tonight's The Night... "
- Bang! Showbiz