Cult TV comedy stars step out from behind the cameras for 'Awesome' live show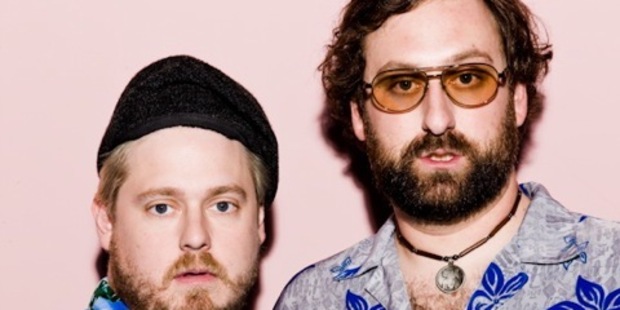 American duo Tim and Eric are masters of awkward. Their oddball sketch show Tim and Eric Awesome Show, Great Job! ran on the Cartoon Network's edgy grown-up Adult Swim comedy block for five seasons from 2007.
The series might have ended but the pair's cult stardom remains and brings their live show to Auckland this weekend.
With its mix of fake commercials, amateur variety show spoofs, newscast parodies songs and big-name guests - Will Ferrell, John C. Reilly and Zach Galifianakis among them - the series has drawn comparisons with everything from The Office to David Lynch films.
Tim Heidecker and Eric Wareheim met at film school, where the two Philadelphians shared an inability to take the course seriously but made use of the school's equipment.
Their short films got them to Los Angeles to make the semi-animated series Tom Goes to the Mayor for two seasons. which they followed with the Awesome Show and more recently the feature Tim and Eric's Billion Dollar Movie.
But now the pair have put down the cameras and gone out live. How, we asked Wareheim, does that work?
What happens when you're figuring out what goes in the live show?
The live show is based on a lot of things from our past - if you're familiar with the TV show, you'll know characters that will come to life and sing and dance. We'll do some songs from the series. But some stuff is brand new. Tim and I were in bands together while we were at film school and we performed live together a lot, we loved it, and we've done many tours in the United States, and also in the UK, and we just love it.
So there's more music in your live show than people might expect?
I would say there's a good amount of music, but also just a good amount of untraditional comedy, that's the best way I can describe it. If you're into our TV show, you will love the live show. If you don't know us at all, it will probably be weird, but hopefully you'll still laugh.
Is the vibe at your live shows more like people come and sit down and listen, or is it more like a rock concert?
It's more like a rock concert. We like people standing, and we play at rock clubs, because there is dancing and singing along, it's a more energetic environment than a quiet reserved show.
And just as bands play their old hits, you bring out some of your old characters from the show?
You'll see a lot of old characters and a couple of new ones, probably about a 70/30 split.
How did you go about creating them? Who did you base them on?
Growing up we would exchange a lot of video tapes of found footage, old weird commercials, out-takes, behind the scenes stuff that's really funny. And this is before YouTube, we had this network of people that would pass things around - cable network shows, bad TV shows, bad movies. So that's part of it, but the other part is that Tim and I, we think a lot alike, and we come up with things that we both find funny.
And how did you end up getting so many famous folk involved in your series and film?
We made a lot of friends when we first moved [to LA], and then at the same time, a lot of people started liking our show - musicians, actors, and kind of asked us to be in the show, because they'd heard it was a bit of an experiment. Friends told other friends, and that sort of built this big network of superstars, and we can't believe they like us and support us. We're very touched.
Live comedy
Who: Tim and Eric
What: Awesome New Zealand Tour, Great Job!
Where: Powerstation, Saturday October 6