I've even had meetings about meetings in Los Angeles, writes Rhys Darby.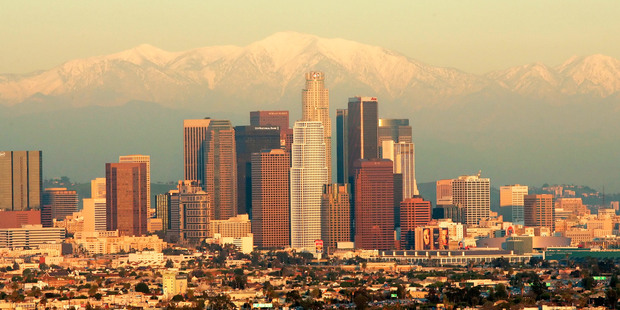 Hello everyone and welcome to the new column everyone's talking about. By everyone I mean mainly me, my mother and some of her close friends who live in Half Moon Bay.
Two weeks ago my family and I stayed in Los Angeles. It makes for a wonderful halfway stop-off point when you're flying from Britain with moaning children but that's not the real reason we were there. I was there specifically for meetings. Some call LA the city of angels. I prefer to call it the city of meetings. It has a certain ring to it (yeah, the ring of a phone).
LA people love to have meetings and when you're in LA for a week you become an LA person. So there we were ... living the dream, you know the dream, that dream about having meetings. I'm not exaggerating when I say 'there's a whole lotta meetin' going on!' I've even had meetings about meetings.
This is the sort of dialogue: "Okay Rhys, you've got an important meeting today. I just want to have a quick meeting to make sure you're ready."
"Righto, umm I'm just in a meeting at the moment. Can I call you back?"
"Sure but I might get you to talk to my assistant because I'm going into a meeting shortly."
So what's up with all these meetings? Well, most of them are about television ideas. Usually it's me sitting in front of network execs persuading them they need a Kiwi character with great hair on their channel. I do the same thing with auditions. Once I tried to convince the director of Clash of the Titans that a New Zealander played a pivotal role in Greek mythology. Oh and Planet of the Apes? Yes a great film series ... but a lot of people I've spoken to agree it could really do with a New Zealand character. Maybe a quirky scientist from Grey Lynn?
When I'm in LA I stay at the W hotel. This hotel is a favourite for pop sensations such as One Direction. Lately by sheer coincidence they have been there every time I've been there.
I know this because there's a whole flock of screaming girls nesting outside on the grass verge like hungry gannets. They're there hoping to catch a glimpse of their idols. I saw the anticipation in their eyes as I pulled up to the valet in my car. I stepped out, waved and said "Hello everyone!" Some of them were fooled because they thought I had a British accent. But most were bitterly disappointed. Oh well, the joke's on them I thought as I turned to walk up the steps.
Then suddenly I heard an older lady's voice shouting from the back ...
"Hey are you Barry Manilow?"
I turned and there pointing at me with a pen poised for an autograph was one of the young girls' mothers.
"Yes ... But I've got an urgent meeting!"