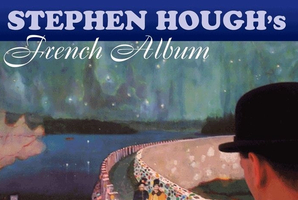 Not every pianist has a Richard Rodgers waltz snuggling up to a Rachmaninov Concerto on his playlist, but such provocative eclecticism is Stephen Hough's calling card. His new French Album is a musical Tour de France, its 17 tasty selections travelling byways rather than highways, uncovering treasures along the way.
For many, the only familiar offerings will an intriguingly nervy Alborada del gracioso by Ravel and the dream-laden five minutes of Debussy's Clair de Lune.
As it happens, the Debussy, along with Hough's beautifully etched transcription of Delibes' Pizzicati, is like a refreshing sorbet before a spectacular finale - a striding, swaggering ride through a Liszt Fantasy on themes from Halevy's long-forgotten opera, La Juive.
Hough had already opened the set with spectacle, an Alfred Cortot transcription of the famous Bach Toccata and Fugue. It's brilliant, if less immediately Gallic than Cortot's take on a Bach Arioso, which Hough transforms into the mould of a Chopin Nocturne.
The task of representing Faure with just four pieces has Hough gliding through the almost bluesy chromaticism of an Improvisation, and skyboarding the slippery scales of an F sharp minor Impromptu - both of which make one eager to hear more Faure from this man.
Hough is also significantly selective with Poulenc. The sighing ballad of Melancolie contrasts neatly with a more innocuously pretty Chabrier piece of the same name; a Nocturne seems like a wry twist on a well-known Chopin Prelude while a scampish Improvisation would be a neat soundtrack for a Charlie Chaplin one-reeler.
Nor is the great Charles-Valentin Alkan forgotten. Poetry and psychology meld in one of Alkan's Opus 31 Preludes, with sombre, foreboding chords under a plaintive melody portraying a mad woman on the edge of the seashore. And how lovely to revisit the once-popular Autumn by Cecile Chaminade and be tossed about in the bracing seasonal storm that Hough brews up as part of the journey.
Let's hope one of these morceaux is on Hough's encore list when he tours with the NZSO later this month - Hamilton on September 27, Auckland the following night. It would go down very nicely indeed after his Saint-Saens Concerto.
5/5 stars
Stephen Hough: French Album (Hyperion, through Ode Records)
Verdict: English pianist crosses the channel for a tantalising musical Tour de France.