Due here for the summer holidays, evergreen pop star Cliff Richard tells Scott Kara about rediscovering his faith in music.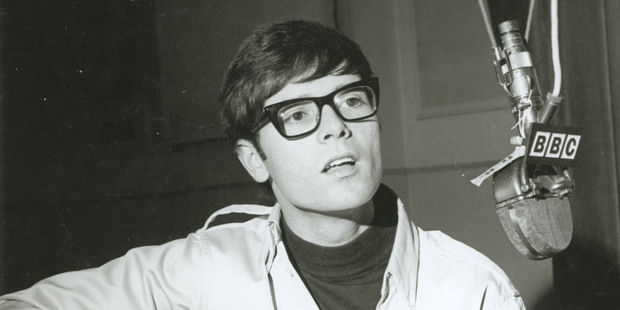 Even though CDs are on the verge of extinction, Sir Cliff Richard still believes they are the superior music listening format. Don't scoff, because he is well qualified to make this claim. He's the first knight of British pop, meaning he can pretty much think and do whatever he likes, thank you.
But throughout the clean-living rock 'n' roller's 54-year career he's listened to songs on everything from vinyl 45s on a juke box ("There's just something about the sound of the early mono jukebox") to the digital files of today.
And for him, CDs are the best because "you can turn the volume up really loud without destroying anything.
"And at least you've got something to show for what you've purchased. Whereas with an MP3, it'll come up when I type in the name, but I don't know where it is on my computer," he laughs in his polite, slightly posh lilt, down the phone from New York where he has been following Andy Murray in the US Open.
Tennis is one of his great loves but it's music he reminisces most passionately about. Whether it's giving his rendition of the Everly Brothers' All I Have To Do Is Dream, or talking about his poolside juke box, which comes in useful at pool parties - something Sir Cliff puts on quite often by the sounds.
"I can't remember how many songs it plays. A whole bunch. Maybe a hundred. They are the old 45 records," he says with a laugh.
"I've got this high-tech sound system but when we have parties people want the jukebox. It's fantastic. I love it. And everyone does. They love it that they can go there and choose a song and suddenly there's the Johnny Otis band playing [breaks into singing], 'Good golly'," he says of the Californian rhythm and blues musician who died aged 90 at the beginning of the year.
He says although he has eclectic tastes, he still plays songs by his old favourites the Everly Brothers, Elvis and Jerry Lee Lewis a lot. He reels off song names like Teddy Bear, All Shook Up, Whole Lotta Shakin' Goin' On, and Heartbreak Hotel, some of which may appear on a new rock 'n' roll album he is recording in Nashville to be released later next year.
The man born Harry Webb in Lucknow, India, in 1940 will also be trialling a few of his versions of these 50s classics when he returns to New Zealand in January for three shows on his Still Reelin' and Rockin' tour.
"There was plenty of bass end in [those songs], they're not as pumping as some of [today's] new stuff is, but back then records weren't made to pump, they were just made to be aggressively melodic. And they take on a whole new life on a jukebox.
"Oh," he continues enthusiastically, "and I used to love buying vinyl albums because you got a 12 x 12 inch picture of the artist, with information on the back that's not so small that you have to get a magnifying glass to read it.
"I felt then that we were closer to rock 'n' roll because everything was in-your-face more."
Richard was there at the beginning of rock 'n' roll - in Britain at least. Along with his band the Drifters (who would become the Shadows), he started making groovin', thumpin' rock'n'roll in the late 50s.
His 1958 track Move It (with the Drifters) is often referred to as the first British rock 'n' roll tune. And even today, it kicks arse. His other popular songs from that time were Living Doll (1959), The Young Ones (1962) and Summer Holiday (1963).
"We only played three chords for years because you could play most of the songs with them," he remembers. "It always amazed me that, with only eight notes in an octave, we were able to write so many different melodies. It fascinated me, and I'm still fascinated by music."
But just as the 60s really started to get swinging, Richard, who admittedly had always been clean-living rather than a rock 'n' roll rebel, became a Christian. Why? He had a "mind-blowing spiritual experience", about which he doesn't elaborate, but remembers with a laugh how he called a press conference and told the world he was giving up rock 'n' roll because, no, not that it was the devil's music, but that "I'm a believer now and I don't know how I'm going to make my faith and my rock 'n' roll work together".
"It was a big mistake," he says.
During this time he went to a teachers' training college to talk about retraining, which came to nothing, but then his manager encouraged him to do a gospel album, Good News, from 1967, and then he was approached to do the film Two A Penny.
"I suddenly thought, 'Actually, I could still be a Christian and still do the stuff I like to sing about and be part of'. It was very embarrassing, I then called them [the press] all back to tell them I'd changed my mind and I was going to stay."
He admits that with his newfound faith, and his need to understand Christianity better, it took away his focus and passion for music for many years.
"I still went in to the studio to record but the producer would have made the track and I went and put my voice on it and I'd say, 'Goodnight'. And I'd come back the next day and do the next one."
It wasn't until 1976 that the "excitement" for music started to come back when he and producer Bruce Welch started recording a new album. "Bruce said, 'Let's do songs that are not like Living Doll and Summer Holiday. Songs that are not the obvious commercial, easy hits'."
The result was I'm Nearly Famous with tracks like Devil Woman and Miss You Nights which are still among his most popular songs. And the album was the start of a Cliff Richard renaissance which continued with worldwide No. 1 (though not in New Zealand) We Don't Talk Anymore in 1979, into the 80s with Wired For Sound and Mistletoe and Wine, and he still has huge pulling power today.
The last time he was here was in 2010 with the Shadows for a 50th anniversary tour; they played five dates around the country, including two nights at Vector Arena. "I didn't get the chance to sing We Don't Talk Anymore or any of the big hits I've had in recent years," he says of that tour.
Richard may not have any war stories from his wild rock 'n' roll youth, but from talking to him you sure get a good perspective on the history of rock 'n' roll.
"No one knew that rock 'n' roll was going to become a fantastic art form back then - and it's still here after 50 or 60 years. But like every art form, it's changed ... so when you think about the off-beat drum, the driving bass, and guitars clanging, that is still predominant. But the way people write songs has changed. It's become slightly more complicated in many ways - they use more than three chords."
If anything, the thing he misses from music these day is the "goosebump factor". It was something he got regularly back in the day, like when he first heard the Everly Brothers singing All I Have To Do Is Dream and Elvis' Heartbreak Hotel.
"It was breathtaking. It was like, 'I can't wait to buy that'. And it still happens now and then these days, because these singers are drawing on five decades of influences, even if they don't know who influenced them, it's coming through because they sing brilliantly. And the production values are incredible, the excitement and drum beats are so brilliant. But [the goosebumps] happen less and less."
Who: Sir Cliff Richard
Where & when: Vector Arena, Auckland, January 26; TSB Bank Arena, Wellington, January 28; and CBS Canterbury Arena, Christchurch, January 31.
Tickets: On sale September 21 from Ticketmaster.
-TimeOut