The leading women and legendary director of Savages talk to Michele Manelis about the dope-fuelled thriller.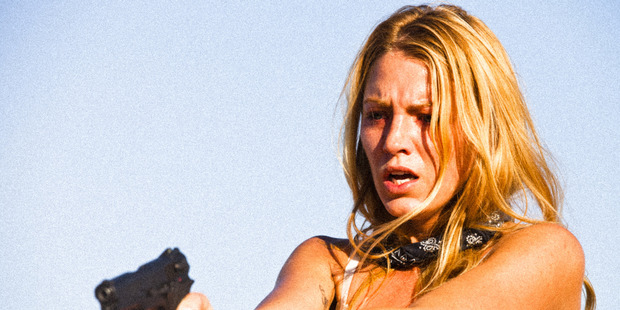 Oliver Stone's latest wild ride, Savages, deals with the sordid business of dealing drugs in a world where torture and death are just another day at the office.
However, the director's latest wander into America's criminal underbelly - he's been there before with Natural Born Killers and U Turn - is set against a backdrop of California sunshine, scenic beaches, and beautiful hipsters who exist in a dreamy world of hedonism.
"I wanted to make the movie because it's a sun-splashed fun ride," says Stone. "It's wild and unpredictable. It's a thriller but at the same time it has character development. It's all that good stuff I like."
Adapted from Don Winslow's book Savages: A Novel, the film stars Taylor Kitsch (Battleship, John Carter), as an ex Navy SEAL with Aaron Johnson (Kick-Ass, Nowhere Boy) as his sensitive partner-in-crime. Together they are California's most successful pot growers.
Also binding them together is Blake Lively (Gossip Girl, The Town), whose "O" lives with both of them in an alternative state of domestic bliss.
For Lively, who in real life just got married to Ryan Reynolds, there seems to be a running theme in her career - playing morally bereft, drug-addicted, sexually liberated women, as previously seen in The Town, and The Private Lives of Pippa Lee.
"I like to choose complex women. Yes, the last three movies were women who were drug addicts who had a lot of sexual issues. They all had incredibly dark sides that had a lot of layers and dimensions. Ultimately, I always look for something that's challenging."
Lively is featured in various sexual scenarios throughout the film. She says, "What I like about the movie is that it's the woman who gets the two men, which is unusual. And although this cast was full of testosterone, it was the two female characters who had the power, in a way."
The relationship between Lively and her two handsome leads somehow attains a sliver of realism, despite the odd situation. "Our first day of shooting, Oliver had me do the love scenes with Taylor and Aaron. It achieves a level of intimacy quickly because if you don't feel comfortable with these people after that, then you're never going to feel comfortable. You're so exposed, and you're in front of the crew before you even know anyone," she says, shaking her head.
"I was in a very vulnerable position and Oliver is a very intense man who's always pushing your buttons, pushing you to the limit. And some of the scenes were terrifying," she says. "The only solace is that you know Oliver will make a great film and you have to trust him."
For Stone, the Academy-award winning provocateur behind Platoon, JFK, Born on the Fourth of July, and Midnight Express, it was his own love of marijuana which partly attracted him to the project.
"I've been smoking for 40 years. And the thing is you cannot prohibit drugs. People want them," he says, shrugging his shoulders.
"Prohibition doesn't work, and what happens after prohibition? What happened to the gangster class in 1931? They went into other rackets because they could make money, whether it be horse racing, gambling, prostitution, drugs, other drugs, it doesn't end. We have to decriminalise it and make it a medical issue, a health issue, not a criminal issue. There's nothing wrong with most drugs."
Rounding out the cast are Salma Hayek, as the ruthless Queen Bee of a Mexican cartel, Benicio Del Toro, as her number one thug, and John Travolta as a corrupt D.E.A. agent. Hayek says the role of a female drug lord is more accurate than people may realise.
"There are more women who head these cartels than you might think. They're harder to detect, they're not as flashy as the men and they don't kill as easily. In a lot of ways, they're more focused on business and less on revenge. Women operate differently, more under the radar.
"I've met people in my life who were very powerful and who claimed they were maybe involved in activities like in the movie," she says. "But hey, I'm Mexican. I've met a lot of people," she laughs.
What: Savages
Who: Oliver Stone directing Taylor Kitsch, Aaron Johnson, Blake Lively, Salma Hayek, John Travolta and Benicio Del Toro
When: Opens at cinemas today.
-TimeOut