Lynn Shelton's latest indie hit Your Sister's Sister thrived on the challenge of a cast no-show and no script, reports Caris Bizzaca.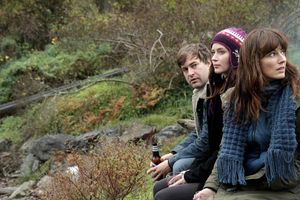 Losing the lead actress set to play Emily Blunt's sister in a film titled Your Sister's Sister, just before shooting started could have spelled disaster for the low-budget indie.
But it was just one of a series of potential obstacles Lynn Shelton and her cast deftly hurdled to produce the critically acclaimed film, which has a remarkably effortless feel.
When Blunt's onscreen sister (reported to be Rachel Weisz) dropped out, the 14-day shoot was whittled down to just 12 and Rosemarie DeWitt was flown in as a last minute replacement.
Shelton says she barely slept for the entire shoot.
"I was so mortified, so terrified we weren't going to get it all in the can in the amount of time we had, which was so tiny," she says.
For DeWitt, it meant coming to the film without the eight months of preparation Blunt and her other co-star, Mark Duplass, had for the part.
Your Sister's Sister was largely improvised, so DeWitt wasn't faced with learning a script, but she had never tried improv before - something that surprised Shelton.
"When I found out Rachel Getting Married wasn't improvised I was kind of shocked because it felt so improvised," she says of DeWitt's performance as the title character and sister to Anne Hathaway.
"I thought to myself, maybe this is just ridiculous, but it seems like every time I see Rose act, it seems like she's improvising, so how big a step could it be to actually improvise?"
The gamble paid off, because critics have been showering Your Sister's Sister with praise for its superb performances, realistic dialogue and Shelton's unique, collaborative film-making.
Shelton says the way she makes films is so different, that it's all she has to offer for actors who could find a much bigger pay cheque somewhere else.
"Emily, I've heard her say... really she did it for the experience," she says.
"I think that that's all I have really to pitch to actors who have been used to working on bigger sets; look, it's two weeks of your life and it's not going to be like any studio film you've ever worked on.
"It's going to be like this film camp more than anything else."
That's exactly how Duplass, who worked with Shelton on the 2009 comedy Humpday, describes her shoots.
"It's just like camp.
"We all huddle together for two weeks and make the best thing we can make in that short period of time," he says.
"It's intense, but great fun."
In fact, Duplass liked Shelton's process so much that he brought her the idea for Your Sister's Sister, although it was originally about a mother and daughter.
Shelton changed it because she says she's always been drawn to exploring sibling relationships onscreen.
"I have quite boring ones, really bland, drama-free relationships with my siblings, but I've observed unbelievably fascinating ones," she says, adding that it's "just really rich territory".
An unconventional and hilarious love story, Your Sister's Sister stars Duplass as Jack, who's still mourning the death of his brother Tom.
He is sent by his best friend Iris (Blunt) to her family's holiday house for some R&R.
On arrival, he finds Iris' lesbian sister Hannah (DeWitt) is there for much the same reason and a night of drunken sex follows - which becomes problematic when Iris, who has feelings for Jack, turns up the following day.
Shelton wrote parts of the script, but because it was largely improvised, there were moments that happened on set that she could never have dreamed up on paper.
She says in one scene she needed DeWitt's Hannah to embarrass Iris in front of Jack.
"She (DeWitt) looked down for a second and she said, 'I think I have something' and she didn't tell anybody what it was going to be," she says.
When the cameras began to roll, Hannah told a story about Iris' old boyfriend asking her to trim her pubic hair.
"You get to see Emily Blunt blushing for real onscreen and we had to do the take several times because she could not stop laughing and crying at the same time, she was so mortified," she says.
"It was so amazing and that first, that initial sort of reaction is completely real and it would be so difficult to fabricate that."
What: Your Sister's Sister, starring Emily Blunt, Rosemarie DeWitt and Mark Duplass
When: Opens at cinemas on Thursday September 9
- TimeOut / AAP