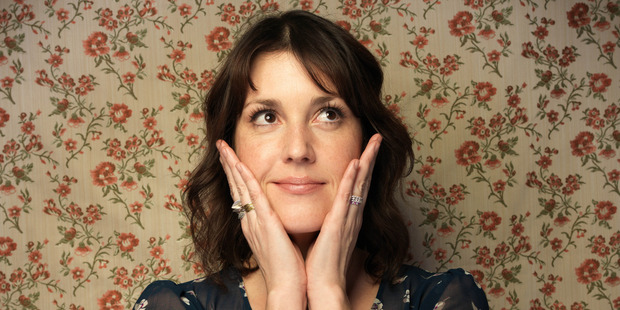 The other half of the Heavenly Creatures duo has been working consistently in Los Angeles for a decade. James Robinson catches up with her.
Melanie Lynskey is distracted. Sitting outside the cafe, she stops mid-sentence and looks across the road. Back to our conversation - and then she does it again.
The Kiwi actress thinks she has spotted a friend of hers on the other side of the road.
Her friend crosses over Silver Lake Boulevard to enter our cafe, and she waves at him. Then she recoils - she's got the wrong person.
"I'm sorry, I thought you were a friend of mine," she says.
The man laughs it off, and then studies her a little bit. "You look really familiar too," he says as consolation, and enters the cafe without a second thought.
We both laugh and I kid her that it's the inverse of the man-on-the street interaction you'd expect from a movie star. But that's the point, in a way. From outside of Hollywood, people wildly misread what it is like to be Melanie Lynskey.
Recently her alma mater, New Plymouth Girls High, approached her to fund a new wing of the school. They were not aware that a lot of her work in independent movies she does for about $100 a day.
"It was awkward," says Lynskey, laughing. "It would have been called the Lynskey Wing. Which would have been something."
* * *
La Mill Coffee Boutique, her favourite neighbourhood cafe, feels a long way from New Plymouth. It is in Silver Lake, one of a run of neighbourhoods across the US 101 from Hollywood that are as chic and low-key as Beverly Hills is flashy.
And the elegant actress of today seems a world removed from the frumpy teenager we were first introduced to in Peter Jackson's Heavenly Creatures. It's a blazing hot day and the 35-year-old is in a small black-and-white striped summer dress. She is as slight as you might expect, but with a disarmingly broad smile.
Sipping on her iced coffee, she's a little drowsy. She takes a few minutes to liven up, confessing to having fallen asleep on her couch before coming to meet me.
"I panicked and had to put my makeup on in a hurry," she says, almost apologetically. Her accent is New Zealand by way of everywhere. The elongated "r" sounds have been hardened off, and there's a small hint of an Englishwoman too.
This week for the first time, Lynskey will take top billing in an American film when her new release - and 2012 Sundance Festival favourite - Hello I Must Be Going opens.
It's her first leading role but since focusing her attention on making it in America, Lynskey has appeared in almost 30 movies and a dozen TV shows, and has been working consistently for more than a decade.
They've been supporting roles, often in quirky films, but that record still puts her in the very top stratum of success stories in Los Angeles, where it's a pretty good chance the person who waited your table is off to an audition when their shift ends.
"The hardest part was believing that I had any right to think I could do this," Lynskey says.
* * *
Twelve years ago Melanie Lynskey moved to Los Angeles for good. At the time she was living in London and coming to Los Angeles as needed for work.
She was in a relationship that had ended, and wanted a change. It had been six years since she had been pulled out of obscurity in high school to star in Heavenly Creatures alongside Kate Winslet.
Peter Jackson's Oscar-nominated account of the teenage matricide that shocked 1950s New Zealand launched Winslet on to the Titanic and beyond and she is now something of a superstar. But all Lynskey had to show for herself were a few smaller roles.
There was something exponentially more imposing, then, about being in Los Angeles, the actress says. She didn't have a game plan, and she's had no "a-ha" moment of discovery.
She remembers initially not really knowing anyone in town and taking taxis everywhere, which is not a smart, or cheap, move in this city. It took her a few years to see where she fitted in, but eventually she worked out that she did have something to offer.
She says it might not have been a traditional offering, but it was something.
Lynskey is perhaps most well-known in America for having appeared in more than 50 episodes of Two and a Half Men as Rose, Charlie Sheen's stalker.
The show created two worlds for her in Los Angeles. There's not huge crossover between its fans and fans of her movies and the show has the power to divide; it is watched by millions of people and simultaneously maligned and despised.
But it has been good to Lynskey. "I still think it can be funny," she says.
Charlie Sheen's firing from Two and a Half Men and his extremely public meltdown last year provided Lynskey with her only direct brush with tabloid attention, when she was hounded for comment everywhere she went.
It was a distressing few weeks, it seems. They even found her at the airport. "It was really hard to follow all the coverage. I know he was feeding a lot of it. But he's such a sweet man and a good friend, and we had some really great times together."
Across her career, Lynskey has made a habit of supporting similarly big names. She has worked on large projects with George Clooney, Matt Damon, Reese Witherspoon, Edward Norton and Drew Barrymore.
Working alongside A-listers has given her a view few people get of where the marketed idea of a star stops and the hard work begins.
"I've been really lucky, in that I've had such positive experiences with all of them," Lynskey says. "There are some big names that no one has a single good thing to say about. This town can attract some good-looking, charismatic sociopaths."
There are frustrations, however, in the character actor's life. Lynskey's reluctance to self-mythologise almost makes her ill-suited for the rehearsed Hollywood star machine.
She was even vetted by a local company for her suitability to appear on talk shows - and failed the test. "I didn't have any anecdotes handy" she says. "And I kept asking the interviewer questions about himself."
Lynskey has been to countless auditions and told she wasn't what they needed - only to later spy a much more famous actress in the part when the movie hit theatres. She has been promised roles to her face, which have then been given to someone else.
She'll still go and see movies that she's been passed over for in the theatres. She laughs that it raises the stakes of the movie-watching experience.
She has also lost out on roles she's won fairly because - in the awkward combination of business and art in Hollywood - she was declared by higher-ups to be not famous or "hot" enough.
"Those rejections tend to hurt the most," Lynskey says.
* * *
From the first audition for her starring role in Hello I Must Be Going, the director and writer team (husband Todd Louiso and wife Sarah Koskoff) wanted Lynskey and Lynskey alone for the part.
They stuck with their pick even though having her as the star, instead of a more recognisable name attached to the movie, meant that they couldn't raise all of the money they'd hoped for to make the film. They wanted her so they decided to make the movie with less cash.
The film is a sweet character-study of Amy Minsky, a mid-30s divorcee living with her parents and struggling in the midst of a thick depression, who comes alive through an affair with a much younger man (played by Christopher Abbott, from HBO's Girls).
The movie's journey is Amy's emotional journey, and Lynskey carries it brilliantly with a seamless performance distinguished by both restraint and subtlety, and notable for the anger and joy that she lets shine out from under it.
The American media have been intrigued by the New Zealander, although they regularly asked her how she enjoyed "making out with a much younger guy" - 18-year-old Abbott.
"It's always weird," she told one interviewer. "The first time Chris and I kissed each other it was so awkward. We were very polite about it. We did a little 'muah, muah muah' and then went off to the kitchen.
"We looked at each other and said, 'We can NOT keep kissing like that for this whole movie'. The next kiss after that was awesome. We even high-fived after it!"
In real life, Lynskey lives with her husband, actor Jimmi Simpson. It's a two-actor household, which means a lot of travel and time apart. She loves living in LA, even if all the driving makes her a bit crazy.
The couple have a dog and own a house near the coffee shop where we meet,though she won't exactly say where, "because of the weird internet people who put my address online". Some actors get the privilege of hiring high-priced lawyers and accountants to set up expensive trusts that obscure the paper trails that lead to their address but not Lynskey.
Los Angeles is a more beautiful city than people give it credit for, which makes it easier for Lynskey. The casual charm of her part of town is different from the smog-laden freeways many imagine as typical LA.
She says the biggest trade-off involved in living in Los Angeles is not being near her family. She's the eldest of five kids and she gets gets back home once or twice a year.
When I ask her about reconciling herself to living in America for the rest of her life, she bunches up her shoulders and pretends to cry hysterically.
References to her family creep in several times in our hour-and-a-quarter talk. "I miss them the most. Them, and being able to go the supermarket and buy amazing wine for $15," she laughs.
* * *
Lynskey would happily do more New Zealand movies but she doesn't really get offered roles. She's not tied into any network of local actors in Los Angeles, either.
"My friend Taika [Waititi, director of Boy] was in LA, and he would say, 'I'm off to see such-and-such New Zealand actor' and I'd have no idea they were living in town," she says, frowning slightly.
"He also told me about this vampire movie he was making and I told him to cast me in it." She pauses. "That didn't happen."
For Lynskey, life in her adopted home is strikingly different from in her homeland. In New Zealand she is a household name, and an off-handed Twitter quip about the "tacky" plans for a Wellywood sign becomes news. In America she's the archetypical couldn't-place-the-name-but-I-recognise-the face actress. And she says people also relate to her differently, too.
"New Zealanders can be a little hostile. They tend to keep away, and have a bit of an expectation that you think you're pretty great.
"Americans tend to just come right up to you and say, 'I liked you in that. Great job'."
Lynskey still has crazy fans in America too, though. Four years ago in New York, she was harassed at a hotel by two drunken fans. She'd had a tiring day, learning her dance moves for her part in Sam Mendes' Away We Go.
The two fans spied her from Two and a Half Men, and taunted her with cries of "Crazy Rose," asking if she was in town to stalk Charlie.
She tried to explain that she was there working on a movie, but her accent and the talk of acting just seemed to rile them up more.
"I got so frustrated at them," she says, cringing.
"It was like, 'Stop it! My name is Melanie. I'm an actor! I'm from New Zealand'!"