Greg Dixon talks to the famously political British folk-rocker Billy Bragg about cupcakes, Woody Guthrie and turning 50.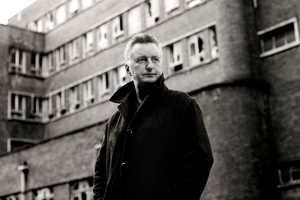 When you're Billy Bragg - chirpy balladeer, scourge of wrong-thinking right-wingers and defender of the proletariat everywhere - you're not even allowed to like cupcakes, apparently.
"I did a gig over the weekend," he says by phone from his rather posh home in the charming Dorset village of Burton Bradstock, "and someone made me some nice cupcakes. When you put them all together they said 'Billy Bragg'. It was really nice. I took a photograph of them in my dressing room and put it on Twitter and someone called something like 'Revolutionary Democracy' castigated me, on the day all those miners were killed in South Africa, for sending out a picture of cupcakes.
"I looked at his tweet and thought, 'arrgh'."
Bragg, who can be chippy as well as chirpy (see the YouTube footage of a lone Bragg facing down British National Party supporters on the street in his hometown of Barking), says he really had to resist "playing the man and not the ball". But he wasn't going to let this particular bore, no matter how democratic or revolutionary, get away with slagging off his cupcakes.
"There is a famous quote on the American Left from Emma Goldman [an early 20th century anarchist]: 'if I can't dance, I don't want to be part of your revolution'. So I just tweeted back 'if I can't have cupcakes, I don't want to be part of your revolution, mate'. I think it's better to deal with criticism that way. Rather than getting involved in feeding the trolls, try to undermine them with a bit of gentle humour."
It seems to me, at least, a bit shit that a 54-year-old long-time socialist, who has been fighting the right-on fight through song and performance for more than 30 years is forced to defend himself and his cupcakes to some idiot on Twitter. But it's evidently not Bragg's nature to ignore insults, even cheap ones.
"Well you don't want to still be arguing with them eight hours later. You just thrown one back, they're just like hecklers really."
It's rather unlikely there will be any churlish tweets or boorish heckles when Bragg plays the Auckland Town Hall in October, a gig featuring Woody Guthrie songs in the first half and his own songs, new and old, in the second.
There's genuine excitement, he tells me, about his first visit here for more than four years - and he sounds genuinely delighted that there is.
This tour will mark a milestone, well at least for me. It will be a quarter of a century since I first saw Bragg play - at Palmerston North's Massey University - during his first visit here.
The gig was classic Bragg, all lefty anthems and cheeky ad-libs, and came after a string of terrific EPs and singles (including New England, Between the Wars, Greetings to the New Brunette, Levi Stubbs' Tears) and on the back of what arguably remains his best album, Talking to the Taxman about Poetry.
In the 25 years since, he's had a number one single in Britain, released another seven albums, though at increasingly irregular intervals, has recorded unrecorded Guthrie songs with Wilco under the Mermaid Avenue title, played an endless number of gigs around the world and continues to be a constant, strident (if minor league) fixture on the political landscape at home. He also became a dad; his son Jack starts university this week.
Rather more oddly for a mouthy socialist agitator, he has also become, in the intervening 25 years, a Great British Institution. This is why people make him cupcakes and why, when he turned 50 in 2007, the Guardian newspaper paid tribute to him - in a leader, no less - saying "at 50 the Red Minstrel is not selling out, but still singing out", while praising his music's warmth and humour.
"How weird is that," Bragg laughs. "The Times referred to me as a national treasure, which is very nice but it doesn't come with any funding."
When I ask him what are the differences between the Bragg of a quarter of century ago and the bloke on the phone, he deadpans "about 10 kilos".
He remains, however, an optimist ("well you have to be if you're going to be a socialist") and his politics - unlike many of us as we grow older - remain undiluted even if the context in which his views were formed - Thatcher's Britain and the Iron Curtain - has changed dramatically. The politics of identity (he published a book on the subject, The Progressive Patriot, in 2006) has been a major focus for him in the last decade, as has successfully campaigning to have BNP members thrown out of the council in Barking.
So he's still angry after all these years?
"What time of the morning is it? I've had my coffee and a bit of toast, I've had a look at the newspaper, maybe I can get myself worked up. Funnily enough people have labelled me as a political songwriter and I actually write songs about the things that make me angry and sometimes that's the Government, sometimes it's relationships, sometimes it's me. I just write about those things that really bug me, which is an almost journalistic impulse really. And because nobody else is really writing about politics I get the label, which I don't mind, it's fair enough. But what troubles me is that people sort of dismiss me as a political songwriter ... but really I'm trying to entertain people and make people think - and you can't do that if you keep hammering them over the head with political dogma.
"Occasionally I get the guy doing the front of stage security or the sound man, as happened at the Roundhouse a couple of years ago, saying 'oh I quite enjoyed that'. I said 'what do you mean?' 'Well I thought Billy Bragg: it'll be all politics and Margaret Thatcher, and actually I quite enjoyed that, it was quite entertaining'."
Isn't it a bit rubbish to still be fighting that stereotype 30 years on?
"It's like Morrissey, people still expect him to have flowers in his pocket. If you get stuck with that, you get stuck with it. I have to occasionally do things that go against that image. I often take opportunities just out an attempt to show that I'm not a two-dimensional Trot."
One of those opportunities has been the three-album Mermaid Avenue project, the first of which was released in 1998. To mark the 100th birthday of Guthrie this year, all three Mermaid albums have just been released as a collection. Those four dozen Guthrie songs, many unpolitical, are a drop from a big pool. There are, Bragg says, more than 3000 songs in the Guthrie archive and, "until we hear those, he's still got things to tell us".
The question of course is whether there is still place, in what is largely a post-ideological world, for protest songs and their singers? After all, all of Guthrie's and many of Bragg's best tunes were conceived of and written during the ultra-ideological 20th century.
"I am not so sure that you have to live in an ideological world to be a protest singer. I think you have to be concerned about how the world is and see if that resonates with your audience. Ed Sheeran, he's been quite successful. His first single was a song called The A Team ... The song is about a homeless woman who earns money as a prostitute, takes a drug overdose and dies. In the video, it's all about the woman, you only see Ed briefly, he buys a newspaper off her at one point, the rest of it is about the woman. It's a beautiful song, she dies at the end of it and it has 41 million hits on YouTube. Don't tell me that young people aren't interested in songs that don't say something other than 'I'm great, you're shit, do you like my socks?"'
Who: Billy Bragg, British folk rock institution
When: Auckland Town Hall, October 12; Wellington Opera House, October 13
-TimeOut