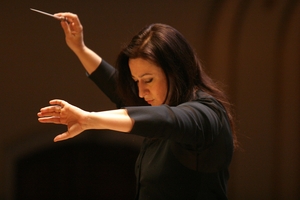 Australian conductor Simone Young's New Zealand debut was a challenging programme of Mozart and Bruckner, which came with the New Zealand Symphony
Orchestra's lofty title, Cathedral of Sound.
While this was appropriate for Bruckner, Mozart's Linz Symphony seemed somewhat fashioned to fit.
Young stressed the ceremonial here, even when the opening Adagio melted into Allegro.
It disappointed, though, that the following Poco Adagio was marred by unexpected sourness in the violins, occasioned perhaps by the distraction of audience applause after the Allegro, and the protracted admittance of late-comers.
After interval, the 80 minutes of Bruckner's Fifth Symphony lived up to the orchestra's pre-publicity, even if assiduous marketing had not brought in the audience numbers that this event deserved.
Bruckner's symphonies are the sort of repertoire that defines an orchestra's maturity, works that the American novelist James Ellroy once playfully described as harmonious, soaringly beautiful, occasionally over-brassed and wholly profound.
Young is a noted Brucknerian who opposes any labeling of the composer as naïve, turning any such liability into the virtue of directness.
The Australian herself was admirably direct on the podium; she knows how to marshal sound, and was unfazed by some of Bruckner's precipitous shifts of mood. For those who cannot get rid of Bruckner's church organist image, then Young's beautifully cushioned sound was the equivalent of well-upholstered pews. Yet, for all the sumptuousness, there was also clarity.
She knows that the Adagio is one of the great Bruckner slow movements, and gave it space, sustaining it for a few more minutes than many conductors do. Its great Mahlerian theme increased in nobility, and its passage through the pages was doubly thrilling.
Although Bruckner has none of Mahler's theatricality or spiritual angst, Young made you aware of Mahlerian premonitions in the mercurial scherzo. And throughout the score, the orchestra, apart from some worryingly rough horns, was behind her all the way.
The NZSO's two performances (the programme played in Wellington on Friday) were recorded by Radio New Zealand Concert. A future broadcast is imminent and not to be missed.
What: New Zealand Symphony Orchestra
Where: Auckland Town Hall