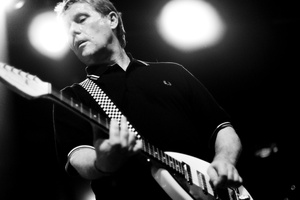 American-based English ska veteran Dave Wakeling talks to Russell Baillie about the return of The Beat.

It might be Dave Wakeling and band's first visit to New Zealand. But it isn't the first version of The Beat to play here. A few years back a group fronted by Ranking Roger, Wakeling's old frontline partner in the ska outfit, which originally formed in Birmingham in 1978, came and played the group's best-known tunes like Mirror in the Bathroom, Twist & Crawl and Stand Down Margaret.
The pair have agreed to have their own touring bands - Roger in the UK, Wakeling in the US - under The Beat banner. The Beat had always been billed as The English Beat stateside.
And now he's finally making it here, chuckles Wakeling down the line from Southern California, where he's lived since his mid 80s hit-making second band, General Public. He's laughing because he knows he's obliged to play track one, side two of the band's second album Wha'ppen. That was a Cold War-themed song titled called Dream Home in New Zealand. It didn't get much of a live airing in the Beat's old days because it had bit of a weird bit at the beginning ...
.
So the writer of Dream Home In New Zealand finally gets to play in New Zealand ...
I think we only played it once or twice live, ever, because you have got to stand there with one of those plastic tubes making a woooooooo noise. You swung it above your head and it made this noise somewhere between space noise and a didgeridoo and it added to the fear of it. But you don't always look that great doing it.
That song touched on the Cold War fears of the time. But it was like a lot of Beat tunes - Stand Down Margaret being another example - a serious subject laced with humour and a sweet tune.
Well, I felt it's a stage, not a soapbox. So if you find a wry humorous way to point at it, it jolts people in the right place and they are more willing to go "oh I know what you mean".
Politics aside, as the reissued albums show, the sound of The Beat records seem to have dated well ...
We were lucky in one way that our producer Bob Sargeant was not keen on any of the new modern synthesizers that were coming out. He came from being a producer of the John Peel sessions for many years at the BBC which was where Punk met the BBC - they probably wouldn't insist on the guitar being tuned exactly but the amplifier was going to be recorded at exactly 67 degrees by a guy in a white coat and pair of gloves. It ended up just bass, drums, two guitars, piano, a Hammond organ, a bit of tambourine and some saxophone. Whereas at the time a lot us were intrigued by what you could do with synthesizers. We were lucky that we didn't, because it has helped the music not sound as fully dated as some of the stuff we were jealous of at the time.
Any regrets that the band stopped after three albums or had the group done its time?
I think the second one. There was a movement within the band to take two years off. What made it worse was as our star had started to slightly wane in England we were becoming massive in America and the second was even worse than the first for some people. We could come off stage and people would be screaming for a second or third encore and somebody would go "we're just another American stadium rock act" and so there was a sense that the band was getting eaten up into the rock'n'roll machine. But me and Roger didn't want two years off and we had just started families and couldn't afford two years off either. We didn't mind singing to 10,000 people at all. It's nice. It's great. I've had much worse jobs really.
And then going back out under the Beat name so many years later, did that give you pause?
I never stopped singing the songs. I think of the Beat songs and General Public songs and Save it For Later and a couple of other songs which were written before the Beat started, and some new songs - to me they all tell more of a complete story rather than just what group they are from. I never really had a problem singing songs in public that had been hits. You always pinch yourself that you were lucky to sing on it in the first place.
So live, and with your own band, what do those Beat songs sound like thirty years later?
In the same way that I didn't want to make it sound like Jamaica in 1963 when we were doing it in Birmingham in 1979 or London in 1980, I think it's a mistake to play them now trying to sound like it's Birmingham in 1979 where you are very clearly from California in 2012. We adopt the same attitude and spirit towards the songs - I make everybody learn the parts and then say now forget them and just play whatever you think makes the singing sound better. It sounds like a decent tribute for aficionados and it's moved with the times enough that it's not a museum piece.
We'll do as many of them as we can. We really ought to have a bash at Dream Home in New Zealand. I'll have to get somebody to print out the lyrics and start passing them round the dressing room.
Who: Dave Wakeling founder of The Beat, now frontman of The English Beat.
When: Powerstation, Thursday.
Also: The Beat's three albums I Just Can't Stop It (1980), Wha'ppen (1981), Special Beat Service (1982) have just been remastered for release with DVDs and bonus tracks.