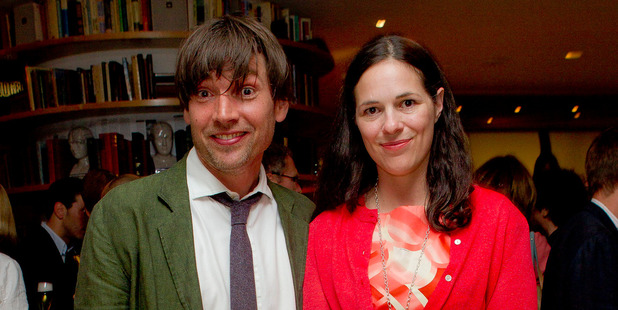 Sharing afternoon tea with Alex James at London's posh Langham Hotel, it not so much his assertion that Britain's favourite beverage tastes much nicer when it's poured from a teapot that prompts me do a double take but the fact that I'm meeting the Blur bassist in such rarified surroundings in the first place.
Before the Britpop stalwarts went their separate ways in 2003, I would more likely have enjoyed several pints with the 43-year-old at a skuzzy Camden pub. But as he writes in his second book All Cheeses Great and Small, much has changed in the intervening years for the one-time notorious hedonist, who claimed in his first autobiography A Bit of a Blur to have spent over a million pounds on cocaine and champagne.
"I used to be a staunch supporter of nightlife and cities and then exactly at the time that Blur disintegrated, I met a girl, married her very quickly and on our honeymoon we swapped a bachelor pad in the middle of London for a farm in the middle of nowhere so what could possibly go wrong?" he recalls with a wry laugh. "Very soon I realised that I knew nothing about farms, or her."
Now living in the Oxfordshire market town of Kingham with his wife Claire and their five children Geronimo, Artemis, Galileo, Sable and Beatrix, James is now as famous for his snappily named boutique cheeses like Blue Monday and Little Wallop as he is for his loping basslines.
"A lot of musicians do end up living on farms but no one has really told that story before," he says.
"Being in a big-arse rock & roll band does enable you to go anywhere in the world and have anything you want but that's curiously unsatisfying. But living on a farm, which requires you to give and work hard, is very satisfying."
According to James, both books grew out of the weekly columns that he pens for The Sun and The Sunday Telegraph.
"I've always written and I really like it," he says. "You can make everything perfect. I would have gone mad if I hadn't been able to write after Blur finished. I didn't really have a job when we moved to the farm, or any friends because I lost half of them when I stopped drinking and the other half when I got married. I was with someone that I didn't know and I didn't know what I was doing, so writing was the one thing that I could do and until cheese came along, that was what kept me sane."
As its subtitle 'A Life Less Blurry' indicates, All Cheeses Great and Small is actually a continuation of James's life story and not a manual about how to make the popular dairy product.
"It's not really about cheese at all," he says. "It's a romantic comedy about pigs, potatoes and unknown pleasures and a 278-page love letter to my wife, England, sunshine, rain and buttercups. But cheese works well as a plot mechanism in the same way that Claire arriving kind of sorted everything out in the first book.
"I've always loved cheese, and so has my wife. It took a year of scratching our heads and going 'what the hell are we going to do?' until suddenly it as utterly and blindingly obvious: I was born to be a cheesemaker."
James insists that cheese is as fascinating in its own way as music or sport.
"If people don't like cheese, it's very hard to explain to them why I like making it but it's incredibly tasty and it's like a real visceral experience," he says.
"Milk is such a mammalian elixir and cheese is the ultimate distillation of it. I love the simplicity and honesty of it. Its every bit as sophisticated and powerful as a fine wine but it's got none of that Lear Jet/ Ferrari/ helicopter swank that a fine wine has. It's an acquired taste but it's a much easier taste to acquire."
Just as A Bit of a Blur concluded with their demise, All Cheeses Great and Small ends with James and his bandmates Damon Albarn, Graham Coxon and Dave Rowntree reuniting for a series of twentieth anniversary concerts, culminating with an appearance at Glastonbury and a pair of sell-out Hyde Park shows in the British summer of 2009.
"It was a lovely thing to do again," he says. "People always want to know what it feels like to stand in front of a massive crowd and the answer is usually it feels completely normal. It's what you do every day. I've had four or five kids since the thing time we played together so none of my children ever knew that I used to do that. They thought it was really great, which was amazing."
Blur will return to Hyde Park on Sunday night (British time) for a special outdoor gig to coincide with the London Olympics closing ceremony. Although James is reluctant to reveal whether they will play any new material, shortly after we meet it is revealed that the band will release two new tracks, Under the Westway and The Puritan, to mark the auspicious occasion.
"We've got together a bit lately but we haven't even discussed a set-list," he says. "You'll just have to wait and see."
With Albarn having previously declared that Blur will go on hiatus once again after the Olympics, James is happy not to give up his day job just yet. "I still love song-writing and I'm in a brilliant band but I've got five kids and a farm I never want to leave," he says.
"Being in a band gives you everything you want when you're young like the possibility to travel, shag and booze. It was very strange when we got back together and the most amazing moment of all was when I first got the call from Damon because I didn't think we'd ever do it. Putting Hyde Park on sale was a punt because we'd never done a show as big as that before and then it sold out in about 30 seconds. The band was bigger than it had ever been and I actually cried."
*All Cheeses Great and Small (Harper Collins $26.99) is on August 17.