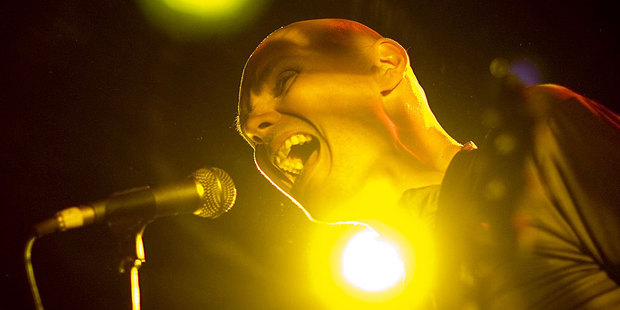 Dust off your Zero shirt and get ready to shave your head again, because now is a very good time to be a fan of the Smashing Pumpkins.
The Chicago-based alternative rock act, fronted by Billy Corgan for 20-odd years now, are in town for a Saturday night show - the band's first here since a sold out Town Hall gig in October, 2010.
The regular New Zealand visitors will be performing Oceania in full at Auckland's Vector Arena - something that could cause concern among casual fans, if it wasn't for the fact that Oceania has been hailed as a welcome return-to-form.
"The year's most outstanding rock album," said The Boston Phoenix, who gave the album five stars - the highest rated review on Metacritic, on which Oceania has a combined 72 per cent approval rating.
"(Billy Corgan) has carved out an agreeable adventure with Oceania, and one that any casual or die-hard fan can embrace with true vigour," reported Consequence of Sound.
Read nzherald.co.nz's four-star review here.
They'll also be playing an encore of hits, rarities and covers, which - judging by a recent setlist in Perth - could include classics like Bullet with Butterfly Wings, Disarm and Today.
That show also included a cover of David Bowie's Space Oddity, a reworked version of Tonight Tonight, and rare live track Soot and Stars.
Corgon told this week's edition of TimeOut that the new version of the Smashing Pumpkins, of which he is the only remaining member, was completely different to that which made classic albums Siamese Dream and Mellon Collie and the Infinite Sadness.
"One plus is that, where in the old band situation I would have to obscure myself at different times and it would piss other people off because their egos couldn't handle it ..."
He also laid into former members of the band, like guitarist James Iha.
"James Iha I think is just a piece of s**t. I think he's one of the worst human beings I've ever met in my life. And D'arcy, she's sort of, in her own way, sort of an innocent."
The show features support from Kiwi upstarts Die! Die! Die!. Tickets are available through Ticketmaster.
* Check back tomorrow for a full nzherald.co.nz interview with Billy Corgan, and on Sunday for a full review and photo gallery from the show.
- Herald online