He grew up on Coro St but now Iain de Caestecker's television career has taken a turn for the supernatural, as he tells Scott Kara.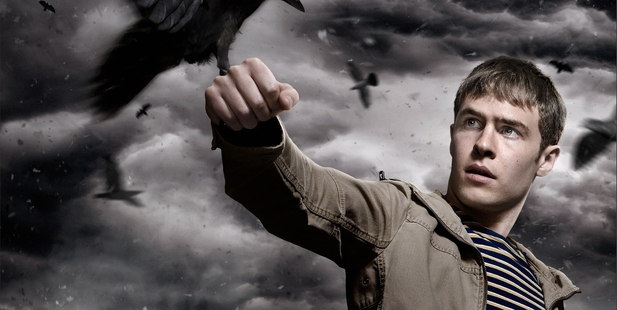 In spooky new TV series The Fades, actor Iain de Caestecker plays a guy who can see dead people.
The boyish looking 24-year-old Scotsman had never thought too much about death, and what it all means, before. But playing Paul, an unassuming and awkward 17-year-old, sure made him ponder the after life.
"I had to try to get into that sort of place, I suppose," he says on the phone from Glasgow. "But I tend not to think too much about that sort of stuff because death, and the idea of it, has never really bothered me that much. Maybe it will soon enough though," he jokes.
Paul is an "Angelic". He sees the spirits of the dead who are trapped on Earth because they have not been accepted into the afterlife (they are known as the Fades). Initially he is not aware of his special power until fellow Angelic Neil explains everything, including the fact that one Fade has evolved to the extent it can now touch humans.
As Paul struggles to get his head around what he is, he queries Neil about whether this is about ascension and getting to heaven.
To which Neil replies: "Heaven? This is about death. It's only about death."
For de Caestecker, that cuts to the core of what The Fades is about. "It's the suggestion that being a Fade is kind of like hell on Earth, I suppose," he says, "in a sense where you are left to rot on Earth for the rest of eternity. It would be horrible."
He pauses, and then wonders out loud: "What if Hitler, or Mother Teresa were fades?"
Indeed: though you have to wonder if even Hitler would be feeble competition for the nasty supernatural and highly evolved Fade Paul witnesses in the first episode.
The six-part BBC series, which also stars Natalie Dormer (probably best known for her sinister and seductive roles in The Tudors and Game of Thrones) as Angelic-turned-Fade Sarah Etches, won best drama series at the Baftas this year.
And though it's a breakthrough role for de Caestecker, he's been acting for years, in his early teens playing Adam Barlow - son of Ken - in Coronation Street.
"It was so long ago now that I can hardly remember it," he says with a laugh.
"But a show like that teaches you a good work ethic and discipline. It's so fast-paced that you have to know your lines and there is nothing else to it, you just have to know your stuff. So at a young age that was quite a good thing to have drilled into me."
The Fades, created and written by Jack Thorne (a writer for brash and funny British teen drama Skins), is an entirely different show.
It is a meeting of Skins (or Grange Hill perhaps, depending on which generation you come from), with the sci-fi spookiness of Doctor Who. The film The Sixth Sense is another obvious comparison, because Paul sees dead people.
But de Caestecker says though he can see the influences of other shows and films he believes it stands out for being unique on telly these days.
"It doesn't throw itself into one genre. Because it is horror, but it has that sort of Skins teenage dynamic going on. But the thing I like about it is that it's really rooted with strong themes, issues and questions.
"Jack comes up with a lot of new ideas around the idea of death - and what it means. And there's also a bit of comedy in there with Mac. It's like this big mash-up, I suppose."
He's right. Amid the gritty gloom and supernatural horror scenes, there are some great comedic moments - like Paul asking his Angelic friend Neil if he is a "ghostbuster" and Mac's constant barrage of lippy teenage wisdom.
It's also a love story of sorts. At least, says de Caestecker, that's what Thorne often described it as during filming.
"He said The Fades was a love story between Paul and Mac because he never had a best friend like that when he was at school."
No, they are not bed pals, because Paul holds a flame for sweet young lass Jay, but the two BMX-riding lads are tight friends because they are, as Mac puts it, "the great unwashed" at their school.
"Paul and Mac only really have each other. They are kind of like Yin and Yang really. Yeah, they complete each other," he laughs.
However, as the series unfolds and Paul is drawn further into the world of the Angelics and the Fades their bond starts to fade.
"Which Mac finds really hard to deal with," adds de Caestecker.
As for Paul, he's impressionable and likeable, but de Caestecker says the thing he likes most about him is that he has a good heart.
"He's got all the normal problems you associate with a teenager but he's yearning for something more, and that's coupled with the fact he is having nightmares he really can't explain. And he can't work out if he is going crazy or not.
"He gets a lot thrust upon him, but he deals with it."
De Caestecker says he had a hoot filming The Fades and he and the other young members of the cast would stand around on set and joke how "this is our job".
"I had the best time ever shooting it," he says even though he's sad that there will not be a second series.
"Yeah, it's weird. But hey, it's nice having it as a standalone now. We can't do anything to it. We can't taint it," he laughs.
Lowdown
Who: Scottish actor Iain de Caestecker
What: The Fades, supernatural scary sci-fi thriller series
When & where: Tuesdays, 9.20pm, UKTV
- TimeOut