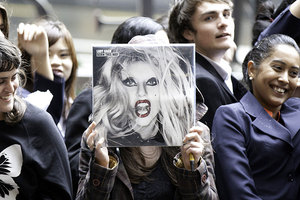 Lady Gaga's little monsters will be out in force when the chart-topping pop star hits Vector Arena for the first of three scheduled shows.
Gaga has performed here twice before: Opening for the Pussycat Dolls in 2009, and for two sold out shows in 2010.
But Gaga has never been bigger than right now, and her three Auckland shows - tonight, tomorrow and Sunday - promise to bring a spectacle never before seen at Vector Arena.
Tickets are still available for all three shows.
Broken into five acts, Gaga's set begins with Highway Unicorn (Road to Love), then works its way through hits like Born This Way, Bad Romance, Judas and Poker Face, before ending with an encore of The Edge of Glory and Marry the Night.
Expect plenty of costume changes, a set that looks like a castle, a horse, flamboyant dancing and possibly a rebuttal to Madonna's recent jibe at her.
And for fans who turned up early, they might be lucky enough to get into the "monster pit" - an area at the front of the stage which can only be accessed by an invite from the star herself.
Opening act Lady Starlight is due on stage at 7.30pm, and Lady Gaga at 8.30pm. The show is expected to finish around 11pm.
For those not attending Gaga's show tonight, other stars in town include Wu-Tang Clan rapper Ghostface Killah at the Powerstation, and Rival State, The Rabble and Snakes of Iron at the King's Arms.
Watch footage from Lady Gaga's recent show in Manila:
Lady Gaga
Where: Vector Arena
When: June 7, 8 & 10
- Herald online