Widely hailed as Britain's greatest living film-maker, Terence Davies has often turned to his childhood for inspiration. He talks to Peter Calder about adapting Terence Rattigan's famous play about love.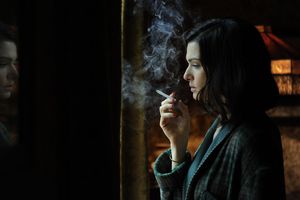 Modest though his output is - five dramatic features since 1988 and only one this century - Terence Davies has long distinguished himself as a film-maker of original vision and accomplished technique.
In Distant Voices, Still Lives (1988), which the Guardian described as "Britain's forgotten cinematic masterpiece" and The Long Day Closes four years later, he mined his post-war Liverpool upbringing - he was the youngest of 10 children in a working-class Catholic household - to create films that worked more like music than narrative drama. Scenes with conventional dialogue were interspersed with visual tableaux, over which washed popular music of the period, sometimes on the soundtrack, sometimes sung - commonly in the pub - by people on screen.
Like Alan Bennett, another gay voice from the English north, Davies has created a unique body of work. More effectively than any English film-maker, except perhaps Derek Jarman, he has exploited cinema's potential for replicating the internal experiences of dream and memory - most strikingly in his 2008 paean to the city of his birth, Of Time and the City, which raided the archives and his memory to poetic (and often bitingly funny) effect.
So it's little surprise that the 66-year-old brings a distinctive sensibility to bear on an adaptation of Terence Rattigan's 1952 play The Deep Blue Sea. Commissioned by the Rattigan Trust to mark the playwright's centenary, Davies was told to be "as radical as you like". So he made wholesale cuts and wrote some scenes of his own - dismissing some characters and introducing new ones. The result is an arresting version of the drama of Hester Collyer, trapped in a passionless marriage to a High Court judge, who has become involved with Freddie Page, a dashing former RAF pilot.
"I'd never [filmed] a play before so obviously I was a little bit worried," Davies says, down the line from his Essex home. "But the trust were incredibly supportive. I knew that I had to tell the story from Hester's point of view and the problem with the play is that it has all the exposition in the first act and it's not very convincing.
"Rattigan never lived in a bedsit in Ladbroke Grove after the war and Mrs Elton [the landlady in the house where Hester and Freddie live together] is a complete caricature - she says everything short of 'Lawks!' and 'Mercy!'."
The Deep Blue Sea is, more than anything, a story about a woman learning the difference between passion and love - something of an oddity in an era when movies are full of explicit sex but almost devoid of romance. Freddie Page is a troubled man who exerts a fatal attraction on Hester, and it's plain to us from the first scene that it's all going to end badly.
"The story itself is actually unremarkable," says Davies, "but I think what is remarkable is the subtextual meaning, the underlying story: it's about love and people wanting a love from someone else that they can't reciprocate.
"Everybody's been in love and everybody's lost someone that they loved."
The play was filmed in 1955 in a now comically overwrought version with Vivien Leigh and Kenneth More. Davies' adaptation has Rachel Weisz as a spellbindingly convincing Hester and Tom Hiddleston, whose perfectly judged Freddie never forgets whose film it is.
The film is notable in its unblinking depiction of passion as amour fou (crazy love). Jonathan Romney writing in the British film journal Sight & Sound notes "the seriousness, unmodulated by mitigating irony, with which it treats intense emotion" and Davies explains that Hester's decision is comprehensible only if seen in those terms.
"A woman of her class would not have left her husband in the 50s. It's really rather heroic that she does that: she discovers sex at 40 but she comes to know true love and realises that if Eddie's better off without her, she'll let him go. I found that incredibly heroic."
It's hard not to compare the film with David Lean's 1945 adaptation of Noel Coward's Brief Encounter in which a housewife and a doctor have a passionate (but, crucially, unconsummated) affair. In a final scene, not in Coward's play, the woman, Laura Jesson, is welcomed back from a reverie and embraced by her dull but kind husband; what happens to Hester, who finishes the film surrounded by the debris of her decision, seems much more transgressive. But Davies doesn't see things that way.
"On one level, their stories are different, but Hester is doing something similar to Laura Jesson; she wants to do the honourable thing; she wants to be honest and in doing that she creates heartache."
Davies is uncharacteristically busy right now; he has two films in pre-production and will direct Uncle Vanya in the West End next year. But, famously unwilling to compromise his ideas to close a deal, he finds it hard to fund projects.
"It's because we haven't got a film industry in this country," he says. "We are constantly looking culturally - and indeed politically - for validation to America; everything you try to make it's 'will they like it in America?' So we are at the mercy of any new orthodoxy that comes along."
Certainly he operates in a cinematic idiom that is never going to pack multiplexes. He's been quoted as saying in response to criticism of the bleakness of his first films that "childhood was meant to be miserable", though he tempers the view when I remind him of it.
"You're at your most vulnerable when you're a child," he says, "because you're at your most open. You experience the world with such intensity. And the world is full of small and great tragedies and small and great ecstasies.
"I don't know how other people experienced childhood, but when I was growing up, even at the moments of absolute ecstasy, I knew that it was passing. So there's an inbuilt misery - but there's an inbuilt ecstasy as well and that's what makes it wonderful and awful at the same time."
Digging deep for his roles
He may be the villain in the biggest movie of the year so far, but Tom Hiddlestone says the much more modest production of The Deep Blue Sea left him almost as beaten up as The Hulk left his Loki in The Avengers.
"The Deep Blue Sea was a challenging film to make," says the rising English actor. "I decided to do it because it seemed to be about the complexity of love and the difficulty of marrying different kinds of love. I feel like every character - Hester, Freddie and William Collyer - are all fighting for their own happiness and impelled to behave in a certain way by irrational and lawless emotions in their own heart. It feels like a very emotional film. It was emotional when I read it, it was emotional when we shot it and it's even more powerful when I see it. It's pretty intense."
It was another English Terence who led to his Thor and The Avengers roles. "My interest in superhero movies started with Terence Stamp in Superman," he admits. "Every boy dreams of being in a superhero movie or being a superhero and being able to fly and wear a cape. So Thor was a boyhood dream come true. I didn't get to be the hero but being the bad guy is not so bad either."
Casting Rachel
For Rachel Weisz, Deep Blue Sea is her second Terence film in as many years - she's also in Terence Malick's next untitled project.
Terence Davies confesses he didn't know who the English star was until he saw her on television.
"This film came on and I missed the first 10 minutes so I didn't know who was in it. This woman came on, wonderful eyes, wonderful face, incredibly impressive and expressive. I waited till the end credits rolled and I rang my manager and said, 'Have you heard of someone called Rachel Weisz?'
"He said, 'Terence you are the only one who hasn't!' We sent her the script, she read it, she rang me, and she said she would do it."
Weisz's old-world beauty suits the film's setting but she says the film shouldn't be looked at as a period piece.
"I don't really see it as being period-specific," says Weisz, "but of course the 50s was a time of great social restraint.
"It's really a story about the complete irrationality of love. It's about someone so consumed by love that they do not have any choice, to the extent that it's kind of humiliating and degrading. I don't judge her in any way."
Lowdown
Who: British film director Terence Davies
What: The Deep Blue Sea
When: In cinemas from Thursday
-TimeOut