Has Sacha Baron Cohen stretched his brand of bad taste comedy too thin with The Dictator? Movie blogger Dominic Corry investigates.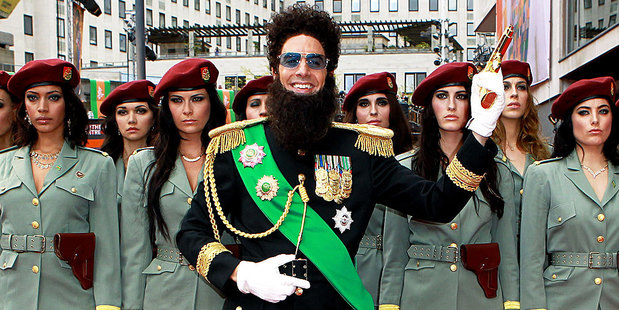 Comedy is a funny thing. No movie genre is more subjective. How much you get out of a comedy can be drastically affected by what kind of day you're having, who you see the movie with, which pants you're wearing and so on.
From any angle, Sacha Baron Cohen is a titan of modern comedy. His legacy is assured even if he never does anything else of note. But I've begun to wonder if he has any more decent tricks up his sleeve.
I was a huge fan of his TV work, was able to look past the not-great Ali G movie and lapped up Borat along with the rest of the world.
Diminishing returns reared their head when Bruno, Cohen's follow-up to Borat, was released in 2009. An undeniable sense of "been there, done that" permeated the film (which wasn't without a couple of decent laughs) and the triumph of Borat was starting to look more and more like lightning-in-a-bottle.
The downward slide continues with The Dictator, which came out in theatres this week. Again, there are several laugh-out-loud moments (which is more than you can say for most modern comedies), but it's all just so ... predictable.
As the Ali G film proved emphatically, something is lost when you pull Cohen's comedic audaciousness into the scripted world.
As a collection of low-brow jokes of varying quality, The Dictator kinda works. As a provocation, it's pretty flat. As a story, it fails miserably.
The stereotypes Cohen plays off in The Dictator feel tired in the film, which never really bothers with any kind of suspension of disbelief.
Maybe we put more pressure on Cohen because Borat felt like such a zeitgeist-capturing event. The standard Cohen set for himself is not being lived up to. But could anyone have followed up the triumph of Borat with satisfactory results?
Bruno suffered from a sense that he wasn't really surprising anyone - this kind of cinematic Candid Camera was only going to work once.
So it makes sense that Baron and his collaborators (Curb Your Enthusiasm's Larry Charles directed Borat, Bruno and The Dictator) would move on to scripted comedy for their latest film.
I really enjoyed Cohen's supporting performances in films like Talladega Nights, last year's Hugo and especially Sweeney Todd - he was the best thing in that movie.
But if The Dictator is what we get when a scripted film is centred around Cohen, maybe he should focus more on character roles in other people's movies.
The legacy of comedically gifted and endlessly inscrutable Peter Sellers looms large over Sacha Baron Cohen, and the Pink Panther star is clearly revered by such other contemporary comedy legends as Mike Myers and Steve Coogan.
But for all Sellers' genius (1979's Being There, one of his last movies, is a good place to start), it's important to remember he starred in a lot of dreck too.
Cohen seems to be doing his best to avoid such a fate by generating all his own material, but maybe he could benefit from trying to fit himself into someone else's vision more often.
His talent for publicity-generated marketing has overshadowed The Dictator to such a degree that it's hardly surprising the film isn't living up to expectations.
The obvious last-minute tinkering didn't help either - the jokes that got the biggest laughs in the trailer aren't even in the final cut.
Even at his most shameless, I find Cohen ceaselessly interesting, and I will be front and centre for whatever he does next. I'm just not sure what that should be.
His Borat-derived status as modern comedy's most outrageous provocateur is surely under threat.
What could he do to reclaim it? Star in a serious drama? Formulate a stage act? Host a game show? Perform on the moon? Try busking?
* Do you think Sacha Baron Cohen has lost the plot? What do you think he should do next? Did you see The Dictator? Did you think it was awesome or pants? Comment below!