Ten years later and heading 50 years back in time, the new Men In Black movie finally touches down with our own Jemaine Clement as the bad guy. Michele Manelis reports.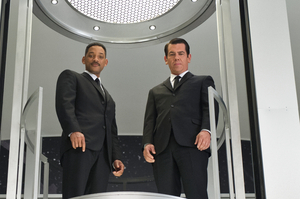 Its alien characters might travel at light speed across the universe to immigrate to Earth, but Men In Black is a movie franchise in no apparent hurry. The first was in 1997, the second five years later.
Now, a decade on, here comes part three in the sci-fi comedy series that has already grossed more than US$1 billion ($1.3 billion) and helped make a movie star out of some rapper sitcom guy called Will Smith.
"It was right after Independence Day," says Smith. "People thought that was a fluke, but when Men In Black came out, they went, 'oh, wait a minute, maybe he'll hang out with us for a little while'. It was the first opportunity for me to play comedy on that level. It was a difficult mark to hit and a really wonderful lesson in comedy and performance."
The new film also breaks Smith's four-year hiatus from the big screen after 2008's Seven Pounds. Not that he's been idle. After all, he has a family business to run.
"Well, I produced Karate Kid [starring son, Jaden], and then I was working on my daughter Willow's recording career and my wife Jada's TV show, Hawthorne. So I've been the sort of daddy, husband producing guy over the last few years," he says. "I have to say, I was a bit rusty going back to work on one of my own projects."
It might be 10 years later but MIB 3 is actually set nearly 50 years earlier. As well as Agent J (Will Smith), and Agent K (Tommy Lee Jones), the film introduces a younger Agent K (Josh Brolin), in a time travel story in which J travels back to the 1960s to rescue K from being assassinated. Smith takes credit for the premise.
Says director Barry Sonnenfeld, "While we were shooting MIB2, Will came up with the idea of doing the next film about time travelling. So when Sony decided to do another sequel, we agreed it shouldn't just be another episode of a villain trying to hurt us, and so the idea of time travelling was very exciting for many reasons."
Going back to the 1960s doesn't quite make sense if you add up the numbers. However, visually it works well and watching the guys meet the likes of Andy Warhol (Bill Hader) is a treat.
"That was one of my favourite scenes, says Sonnenfeld. "The 60s was a perfect era. It was the start of our adventure into visiting planets away from our solar system. The music was great, the fashion was great, but what I personally didn't want to do was a movie set in 69 with hippies and drugs. So we used the Velvet Underground and the Stones, and Cream, so it's really out there, musically."
The movie, with a reported budget of US$215 million, started shooting without a completed script (Sonnenfeld explains this had to do with a deadline on millions of dollars worth of tax credits from shooting in New York) - which, understandably, added to his anxiety.
"Well, there was a script, but only the first act was really good. With the second and third acts, especially with the time travel theme, one of us would wake up in the middle of the night and go, 'wait a minute. If we kill him, then that one is dead and we'd killed the wrong villain'.
"So, we watched Back to the Future dozens of times. That was our bible that set rules of time travel.
Says Smith: "You know how they say, 'never work with kids or animals?' Well, it should be, 'never work with kids, animals or time travel'." He laughs. "Everybody was always disagreeing on what you can and can't do or say. And, let me tell you, it gets really unfunny when you're arguing on the set all day."
Although Smith is consistently entertaining, Josh Brolin's standout performance as a young Tommy Lee Jones is one of the most impressive elements in the movie - and that's including cameos by Justin Bieber and Lady Gaga.
It isn't merely a note-for-note mimicry in terms of speech pattern and mannerism; he really becomes the younger version of the beloved character.
Brolin is familiar with inhabiting a real life personality. In 2008, he starred as George Bush in W.
"Oh, Tommy Lee was much more difficult to do. With Bush, once I said the word 'America' a few million times, I'd get into the rhythm. With Tommy, there wasn't one particular thing that he does that I could hold on to."
But he did watch a lot of his other old movies - the pair starred together in No Country For Old Men.
"I've inhaled the oeuvre of Tommy Lee, I can see all the subtle changes he makes with each role, whereas before, I used to think, 'Tommy Lee is just Tommy Lee'. I was wrong.
"Look at what he did in Natural Born Killers, look at what he did in JFK. The guy is a f***ing phenomenal actor, man." But no, he didn't get an opportunity to research the gruff-mannered actor face-to-face.
"I did reach out to him at one point." He shrugs his shoulders, "But, whatever."
Sonnenfeld says, "I think it was a very brave, very risky thing to do in introducing a new character to the movie. Josh was so good ... I think many people were thinking they were watching one guy play the movie."
Super freak
Jemaine Clement plays the movie's over-the-top villain, Boris, under a heavy dose of makeup by Hollywood monster-maker Rick Baker.
Says director Barry Sonnenfeld: "It took Jemaine four and a half hours a day to look like that. He's an incredibly good villain. We forgot to pay attention to that aspect in MIB2 because Vincent D'Onofrio was fantastic in the first one. Jemaine is one of the nicest human beings you'll ever meet, who's a great looking man, but can also look scary.
"It was funny. Danny Elfman, who has scored all three movies and is a huge Flight of the Conchords fan, didn't realise it was him even after seeing the movie. That was testament to Jemaine's performance."
What: Men In Black 3
When: Opens May 24
-TimeOut