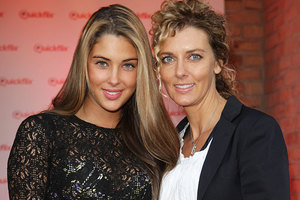 Celebrity mum Sally Ridge has spoken publicly for the first time about her upcoming reality show, saying it might not even be filmed if TV3 doesn't like the pilot episode.
Ridge was seen shooting the first episode for a Meet the Kardashians'-style reality show last week during a lunch date with her 18-year-old daughter Jaime at a Ponsonby Road restaurant, causing a social media frenzy over potential plot details.
The socialite told this week's edition of New Idea that TV3 hadn't made a decision on whether an entire season of the show would be confirmed.
"It's early days. There's no saying whether the network will like it, or whether we will want to continue," she said.
Ridge, who is often seen in the social pages of weekend newspapers alongside Jaime, told New Idea she no longer cared about what people thought of her.
"The public criticism of our relationship does irk. I used to get hurt by the flak, especially if I felt my kids were picked on.
"But I'm at the point in my life where I don't care anymore what people think about me because I'm content with my life and who I am."
When the idea came up for a TV show, Ridge said it didn't take long for her and Jaime to agree to be filmed.
"Jaime and I talked about it, and we agreed to consider it. We thought, 'Why not?'" she said.
"I remember when I first filmed for TV One I was so nervous, but with Jaime it's like the camera is not even there. She's not nervous at all."
Ridge said she and Jaime were close because "we spend so much time together".
- Herald online