Lena Dunham, the star and creator of Girls, tells Michele Manelis about the influence of Sex and the City on a new generation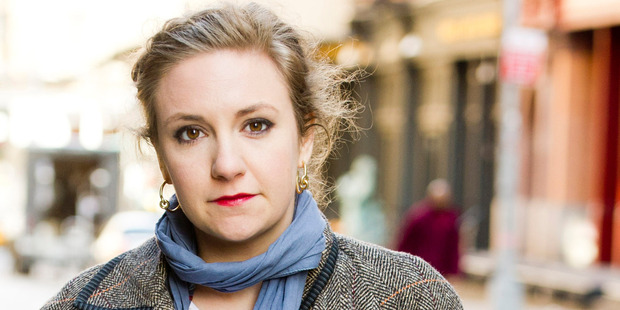 While the premise of HBO's latest sitcom, Girls, about four young women living in New York City might sound a little derivative, it's a different world since the four women from Sex and the City defined the era for single women in the late 1990s.
Lena Dunham, 25, creator and star of the show much-talked about in Hollywood, says, "These girls couldn't exist without Sex and the City. We knew that there would be comparisons because it's about girls in New York and it's also four friends, but I think the tone and the content feels different. And also, in our show they're in their 20s and that's a really different time of life than the women on Sex and the City."
Dunham pays homage to its predecessor, and says, "In terms of what it means to be women, and what it means to live in New York, it is totally informed by Sex and the City, and also, by the ideas of feminism itself. I remember reading the book, He's Just Not That Into You, in college. I read it like a bible," she laughs. "It was incredible to me that it was from a line on Sex and the City. That show's cultural impact is and was, major."
On another level, Girls is a little more reality-based. "Yes," she laughs. "The apartments are small. We wanted it to feel real and to show what a pain in the ass it is to live in the worst apartment, but also that you do the best you can under any circumstances," she says.
Girls is about early 20-somethings at the beginning of their respective careers, and the struggle to make ends meet.
To be at the helm of such an enterprise is an impressive feat. Dunham says, "Well, I made a movie, Tiny Furniture, and I was lucky enough that people saw it and that I got a response. That's what made Girls possible. But even with that, I certainly didn't expect I'd be at 25 having this experience."
She caught the attention of comedy giant, Judd Apatow, who jumped on board as executive producer and turned her dream into a reality.
Dunham says, "I was really intimidated at first. He's so experienced but also extremely collaborative. And with his success of Bridesmaids, it can only help us. We're not Judd's first foray into projects with women. He's already shown that he totally understands comediennes and that audience.
"We've always known women can be funny, but now we know they can be funny and draw major attention at the box office. That can only be a good climate in which to release a show like this."
Girls addresses subjects relating to all things sexual, including pregnancy, and abortion. "We try to really touch on everything that someone that age might be going through, and we try to do it in a sensitive way. And also, it's realistic. Those are your concerns when you're that age, so with STDs and certain kinds of emotional issues we really want to make sure that we are showing the realest version," she says. "A 24 year-old life involves a lot of different kinds of drama."
Dunham is the daughter of Laure Simmons, an artist and photographer, and Carroll Dunham, a painter.
"It's always awkward if your parents see you doing a sex scene. My dad, more than my mom, will cover his eyes. He's not upset that it's happening, he just doesn't want to have to watch it, which seems totally reasonable to me," she says.
It would seem that there's a common thread of unlikeable male characters in Dunham's work.
"Yes, I'm attracted to particularly obnoxious male characters, for whatever reason, and that's my own cross to bear," she laughs. "But I think with men in New York, there's a sense of entitlement about them. They think they can talk to girls however they want, maybe because we live in a liberated time."
Girls also stars relative unknowns Allison Williams (Will and Kate: Before Happily Ever After), Jemima Kirke (Tiny Furniture) and Zosia Mamet (Mad Men).
"I'd described Girls as the real definition of a dramedy," says Dunham. "There's heavy stuff going on but it's also seen through a comic lens. There's no laugh track, there's nothing telling you when to react or cry. People can make their own decisions, and we move back and forth between funny and sad which is something you can do at HBO," she says. "We're not pigeonholing ourselves."
With a multi-hyphenated career as actress-writer-director, Dunham doesn't have to pigeonhole herself either.
"I feel lucky that I don't have to choose any particular profession because they've all worked together so far in this really great way.
"I consider myself a writer first. It's where it all begins and it means a lot to me, that part of the process, but it's also painful, slaving away in a room by yourself," she says.
"What's so great about directing and acting is that they are collaborative, and you get all this other energy into your creative endeavours," she says. "I'm really lucky. I get to do it all."
Who: Lena Dunham, creator and star of Girls
What: Girls, not the new Sex and the City
When: Screening on SoHo from Thursday May 10, 8.30pm; repeated Saturdays from May 12, 10.30pm.
Watch the trailer for Girls:
-TimeOut