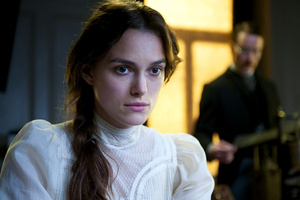 Disclosure: I've never much rated Keira Knightley as an actress, though she was great as a kid in Bend It Like Beckham because she was one, and her limpid beauty and robotic manner suited the otherworldly narrative of Never Let Me Go. But her performance in this painfully wooden historical drama is surely the most irritating she's turned in yet.
She plays Sabina Spielrein, the Russian doctor who was a patient of Carl Jung (Fassbender, normally reliable but here all at sea) before working with him and Freud (Mortensen, with a fake nose). Her idea of the sex drive as potentially destructive or transformative informed both men's later work and she is generally regarded as the first female psychoanalyst.
An interesting character, you might think, but in Cronenberg's exquisitely dreadful film she starts as a gibbering wreck - her overshot jaw and rolling eyes look like a bad audition for a Z-grade horror movie - before quietening down enough to recite dialogue that sounds alternately like it's been cut and pasted from an encyclopaedia or nicked from a Monty Python sketch.
It's a crying shame, because there are a dozen actresses who could have done better but the film goes for Knightley's marquee appeal (she gets spanked while topless, if that's your thing).
Christopher Hampton (the brilliant Dangerous Liaisons and Carrington) adapted the script from his own play The Talking Cure - the name Jung gave to his radical new method of treating mental distress. But what he's come up with is a film of conversations (Sex. Dreams. Mothers) and clunky expository dialogue, quite devoid of dramatic zing or human chemistry.
It's hard to believe that the story of three people essentially inventing the modern idea of the human mind could be so boring.
It was interesting to be reminded of the detachment that the two men brought to a field now so fraught with politics and moralising, but both are like museum exhibits come to life: Freud emerges as a slightly vacant bore and Jung as wet and sleazy. They deserved better.
Stars: 2/5
Cast: Viggo Mortensen, Michael Fassbender, Keira Knightley, Vincent Cassel
Director: David Cronenberg
Running time: 100 mins
Rating: R16 (violence, drug use, sex scenes)
Verdict: Exquisitely dreadful
-TimeOut