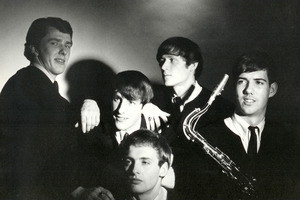 Back in 1964 there was one hell of a racket coming out of the basement under drummer Bob Bennett's parents' house in Tacoma, Washington.
A young chap by the name of Gerry Roslie was yelping and howling, the Parypa brothers, Andy (bass) and Larry (guitar), were going at it, fresh-faced saxophone player Rob Lind was playing squalls of thunderous notes, and Bobby hammered out a fearsome and raw rock 'n' roll rhythm.
"That's where the Sonics took off," remembers Lind, still sounding excited about the point where his band started coming up with wild 60s songs like The Witch (with the cracking line, "cause she's an evil chick, say she's the witch"), Psycho and their own unique, and heavy, versions of classics such as Louie Louie.
The Sonics were like a 60s punk band. They were also a grunge band long before grunge, and touted as one of the original garage rock bands.
"But really, to be clear," says Lind with a laugh, "it wasn't garage rock, it was basement rock."
Whatever term you like to use, one thing is certain: the Sonics play hard and rowdy rock 'n' roll in its purest, and most intense, form.
Though they went their separate ways in 1968 - "Life got in the way. I got drafted and they said, 'We're going to give you a rifle and we're sending you to Vietnam'," says Lind - after much persuasion from a number of concert promoters around the world they reunited in 2008.
They make their first visit to New Zealand this week to play the Kings Arms on Wednesday.
"We're very much looking forward to coming and playing for you folks," says Lind on the phone last week from his home in Charlotte, North Carolina (the rest of the band live in Seattle), having just got home from a 10-date tour of Japan.
"We'll run some clothes through the washing machine and then we're on a plane to New Zealand.
"It's a month of firsts, because we never played Japan, and we always wanted to, and the same holds true for New Zealand and Australia."
Seattle, which is just down the road from the Sonic's home stomping ground of Tacoma, is best known musically for the explosion of grunge in the late 80s and early 90s - but it was also a hot bed of music back in the early 60s.
"There were lots of bands around, not particularly big bands but playing clubs and high school dances and stuff," says Lind.
Before those raucous basement rehearsals, Lind, Roslie and Bennett had a band called the Imperials.
At the same time, there was an early incarnation of the Sonics, led by the Parypa brothers, playing around town. Lind and Roslie always thought that if they had those two in their group then "that would be a pretty tough band".
One day Roslie was invited by the Parypas to sing and it just so happened they were looking for a drummer and a saxophone player and so the classic Sonics line-up was formed.
Being young musicians they also went to concerts by the likes of Ike and Tina Turner, James Brown and other local groups to learn more about their craft.
"We would just go watch and a couple of the bands that were older than us, the Frantics from Seattle, they were fabulous, and the Wailers, who were down in Tacoma with us, and we used to watch both of those bands a lot too."
And with this, Lind, a well-spoken and gentlemanly chap, delivers a quick geography-cum-Pacific-Northwest music scene lesson.
"There are two cities that are close together, Seattle and Tacoma," he continues. "Seattle is like London and Tacoma is like Liverpool. Seattle is a big cosmopolitan city, the musicians up there were very good, they were slicker, snazzier, and more melodic. Then down in Tacoma there was us, and a band called the Wailers [not Bob Marley's lot] and we were playing hard rock 'n' roll music.
"Our fathers were all blue collar workers and we didn't want to play jazz, we wanted to play Little Richard and Chuck Berry."
Their influences right from the start were these two wild men of rock 'n' roll, and British Invasion bands such as the Dave Clark Five and the Rolling Stones.
"And it was like a snowball coming down the hill from there."
But the heaviness and toughness of the Sonic's music also had much to do with playing three sets a day and wanting to rark the crowd up as soon as they walked on stage.
"It would still be broad daylight [for their first set of the day] and we'd play a roller rink, and there would be 25 people standing there with their arms folded staring at us. We hated that. When we came on stage we wanted people dancing immediately, we wanted to come out blasting, and that's what we did. We came out playing hard right from the beginning."
And more than 45 years on, nothing has changed, except that they have a new bass player, Freddie Dennis, and drummer, Ricky Lynn Johnson, on board.
"I tell ya, it was like being in a time machine because we didn't play through the 70s and the 80s, so we didn't do disco music or anything, and when we left we were hard rock 'n' roll guys and when we came back that's just what we had to do," he laughs.
Lowdown:
Who: The Sonics
Where and when: Kings Arms, Auckland, Wednesday
Essential listening: Here Are the Sonics (1965); Boom (1966)