The Black Seeds' Barnaby Weir recalls the October/November 2009 New Zealand tour that saw the Seeds link with US reggae outfit John Brown's Body for a run of shows.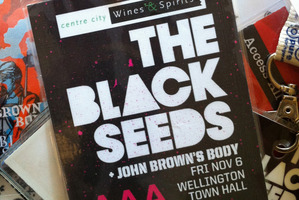 When Solid Ground was released in in the US, we followed it up with a US tour with a reggae band from Boston called John Brown's Body. We got signed to their label Easy Star, so it made sense for us to connect with them. We'd been to the States before but we hadn't played many shows, so that was the biggest dent we'd made there. A lot of the music the Seeds draw on - soul and funk - comes from America. We were playing in the home of some of our influences and the response we got was really good.
We didn't know John Brown's Body personally or know much of their music before we went over, but they are a really good band and we got to know them over the course of these great US shows we played with them.
We had planned a New Zealand show for when we got back and we asked them to join us, and they were really keen. It was a country they'd never been to before so it was a big experience for them, and it really felt like a cultural exchange because we got to introduce them to our fans.
It was a big mission for them to come down to New Zealand and there was no guarantee they were going to sell any albums - it's a small part of the world - but they did it for the musical camaraderie and for the experience.
We felt like ambassadors for the country, in a sense. The John Brown's Body guys got to see the country from the road and we got them pretty much all the way from the bottom to the top of the country. Along the way we played to some decent crowds - we played a sold-out show at the Wellington Town Hall, The Powerstation in Auckland, and, considering they didn't have a local fan base when they came here, they sure made a few fans.
We tried our best to show the band around and let them see the country through our eyes. We went bungee jumping with some of the guys and we had a powhiri from Ngai Tahu before our Queenstown show, which was really special. It was just us at soundcheck and John Brown's Body didn't know we were surprising them with this - they heard waiata and saw the haka, and got the whole thing.
The Opononi gig was the last show of the tour, so their horn section joined us on our last couple of songs. Afterwards we went backstage at the Opononi Hotel, which is a whole series of cottages, and took our gear up there and had a really long jam. We went through to about seven in the morning, and got high on music and other things. We actually recorded some of this as well and there are some jams in there that came out really good. It was an awesome way to close out what was an amazing music exchange for us.
It's been a while since we've seen those guys, but we'll be meeting up again when we're back over in the States this time. I'm looking forward to collaborating again and getting up to more malarkey.

The Black Seeds' new album Dust and Dirt is out now on Rhythmethod.

See The Black Seeds on the Dust and Dirt Release Tour :
Thursday 24 May, Sammy's Dunedin;
Friday 25 May, Lake Wanaka Centre, Wanaka;
Saturday 26 May, The Bedford, Christchurch;
Sunday 27 May, Nelson School of Music, Nelson;
Wednesday 30 May, Altitude Bar, Hamilton;
Thursday 31 May, The Powerstation, Auckland.