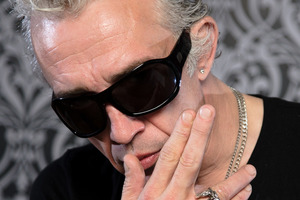 Alabama 3 singer Larry Love strode on stage clutching a bottle of champagne in his right hand, a cigarette in his left. In a gravel growl forged by years of nicotine and blues, he sang the famous first words to the British band's breakthrough song Woke Up This Morning - better known as the theme to The Sopranos. "You woke up this morning and got yourself a gun".
The next 45 minutes of music were among the most entertaining played so far at this year's Womad Festival, running at Pukekura Park in New Plymouth for its ninth straight year. Love was joined by singer Aurora Dawn, guitarist Rock Freebase and harmonica player Harpo Strangelove in a set that mixed country, delta blues and soul with occasional jarring transitions into dance and electronica.
Standing with his arms stretched at the audience, Love played the self-destructive shaman, reveling in the glory of bad nights out at the bar and heaping particularly virulent scorn on today's Facebook generation. Despite veering slightly off course with a sheep shagging joke (my manager told me not to mention it, but f*** my manager, said Love), this was raw, gritty and unfailingly cool.
Paula Ubana Jones is the owner of the festival's second grittiest voice. He croaked out a set of impressive blues originals before a packed crowd at the beautiful lakeside Dell Stage early on in the day. It was an education in how to win over an audience single-handedly.
Jones earthed the show in stories of growing up with his Yorkshire mother and Nigerian father. The songs were set to a backdrop of incredibly complex acoustic guitar riffs, with Jones voice always seeming to move a slight step slower than his fingers.
One of the festival's best acts of the day made no sound. White-uniformed Japanese duo Sivouplait used mime to construct a satirical take on modern love. Their final skit 'Doubles'- about a couple competing in a doubles tennis game - morphed into an epic drama, plumbing the depths of despair before rising to new emotional heights, all to the soundtrack of 'My Way'.
It's hard to forget the image of two racquets being used to depict angel wings, lifting a felled player off the ground after a failed return. The pair received one of the first spontaneous standing ovations of the festival.
A quartet of Finns took the stage for our last concert of the day. Pajama Club featured Neil Finn on vocals and guitar, his wife Sharon on backing vocals and their two sons Liam and Elroy rounding out the rhythm section on bass and drums.
Sean Donnelly (SJD) was the odd man out, relegated to the side of the stage with his synthesisers.
The family dynamic seems to make for good music.
Grooves constructed by Liam and Elroy formed the backbone of the songs, leaving space for Neil's falsetto and occasional yelps to be broken by Sharon's more languid delivery. The band also delivered some of the best banter so far, with Liam talking back to a heckler: "Don't say that about my father... don't say those words in front of my mother". While they seemed a little out of place among the contingent of world artists at the festival, it was great to see some Kiwi legends at work.