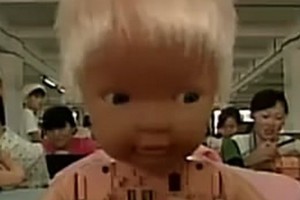 Monday, Tuesday, Wednesday.
Go on, admit it: You're one of those people who complain about the crap on TV and say things like, "I really like a good documentary but there are none on".
Then you might say, "Have you seen Senna?" before continuing with your party conversation about craft beer.
I meet this person every other week, and sometimes I am that person.
So if like me you really like a good documentary, and you have access to SKY then lock this in: All Watched Over By Machines of Loving Grace (BBC Knowledge, Sky 074, Monday, Tuesday, Wednesday, 9.30pm) is the latest visual essay from Adam Curtis, one of the most exciting documentary makers in the world.
Curtis is an unrivalled maestro who flings archival footage and music around like it's oil based paint.
His creations have been criticised for taking liberties, for focusing on style over substance, but what style it is. As for the substance, that's open for debate.
His style is so unique it's been copied by many. It may already seem familiar to you and it's even been parodied.
Curtis creates paranoia-inducing films in which hidden forces and technologies - computers this time - are working against us and possibly enslaving us.
I was first turned on to his work when a friend gave me a DVD of Pandora's Box, all of which is available here.
I'm sure that if someone was hooked up to an MRI machine and we could watch their brain in action, his films would light up the same parts that come alive during those 9/11 conspiracy films.
The promise of Curtis is that he's figured out dark secrets that most people don't know. Anthony Andrew sums it all up rather well in The Guardian.
"What's certain is that he is a remarkable film-maker, someone who combines an arresting aesthetic sensibility with a commanding intellectual reach.
"If over the past decade his films have increasingly come to resemble sophisticated versions of new world order conspiracy theories, then Curtis is too subtle and gifted to be dismissed as a mere peddler of paranoia."

Tuesday

You'd also be mad to miss 30 Rock's much anticipated 100th episode (Four, 8.30pm).
You either love this show or you're in need of getting an MRI check. If this isn't lighting up the funny bits you're in big trouble. To get you primed, here's Alec Baldwin doing an impersonation of Tracy Morgan.
Missing Pieces (TV3, 8pm) is one of the few shows on TV that comes close to doing God's work. It's the one that reunites familles who have become estranged. You will probably cry while watching it.
I thought of it the other day when, while listening to National Radio, I heard a typical anti-TV rant from radio and former TV star Gary McCormick.
Like many a contributor to the station, TV seems to be something to be looked down upon, possibly through your paua-framed specs - kind of like a dog turd on the carpet.
Gary was lamenting the state of TV, which is now crap and nowhere near as good as radio. He then cited a segment on his own show where they helped reunite a woman with her family.
Why can't we have stuff like that on TV, asked Gary? (I was driving so I may be paraphrasing).
Well, we do Gary. It's called Missing Pieces and it's been on for years.
Friday
Ever wondered if a Maori Warrior could beat a Shoalin Monk? Or how about the Taliban up against the IRA? Well these questions and more are answered in an exceptionally weird series called the The Deadliest Warrior (Box, 7.30pm).
Here's a clip of the Maori vs the Monk.
And here's UK TV critic and legend Charlie Brooker discussing the IRA vs Taliban stoush on his TV review show You Have Been Watching.