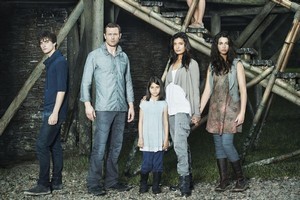 If you are expecting to see dinosaurs straight away when Steven Spielberg's latest big-budget TV show starts this weekend, you will just have to be patient.
It takes a little while for the family-friendly, time-travelling dinosaur adventure series to go back 85 million years in time to the Cretaceous period. But when they do arrive there are some nasty - and nice - dinos ready to feast on any human they can get their gnashing teeth into.
The feature-length pilot starts in the year 2149 when the world is a dirty, stinking, overpopulated place. The only hope of survival is fleeing this Blade Runner-like land and sending people back through a time portal to Terra Nova, a prehistoric colony that has been set up to give the human race a second chance at life.
The central question Spielberg and his team want the show to address is: If humans were given a second chance to start over, would they make the same mistakes?
First, we meet policeman Jim Shannon who is imprisoned for assaulting an officer who found out that he and his wife, Elisabeth, have had a third child when families are restricted to two. While he is serving his sentence, Elisabeth and their teenage children (but not youngest daughter Zoe) are recruited for the Tenth Pilgrimage to Terra Nova.
Without giving too much away, let's just say the Shannons all manage to get to Terra Nova. They set about starting a new life, which includes not only the threat from dinosaurs but from a splinter renegade group called The Sixers.
The leader of Terra Nova is Commander Nathaniel Taylor (played by Avatar star Stephen Lang) who was the first to travel through the portal and spent 118 days alone. Lang says the impact that had on his character is revealed throughout the series. "Having to deal with the creatures, the environment, and loneliness of it was challenging. The idea of going 118 days on your own isn't bad, but for all you know you might spend the rest of your life waking up every day wondering if anyone else is going to show up."
Taylor's staunch role might seem similar to his role as ruthless Colonel Miles Quaritch in Avatar, but they are very different. "Quaritch was pure function, pure cynic, a shark. Taylor is motivated by the highest ideals."
Taylor is a good shot with a sonics gun, which the Terra Novans use to ward off dinosaurs rather than kill them.
The second half of the pilot is action-packed with everything from an assassination attempt on Taylor to rebellious teenagers drinking prehistoric moonshine and getting attacked by "Slashers" (the name given to Acceraptors, a fictional dinosaur invented for the series).
But a sense of intrigue also builds up with many questions posed, such as: What do those mysterious rock carvings actually mean?
While it all sounds very much like Lost, the show's producers insist otherwise. "This has nothing to do with Lost for one major reason - it's made for a massively broad audience," says executive producer Alex Graves whose past work includes The West Wing and Ally McBeal.
"Terra Nova, more than anything I've ever done in my life, is for everybody."
When: 7.30pm, Saturday
Where: TV3 What: Starting a new life with the dinosaurs
-TimeOut