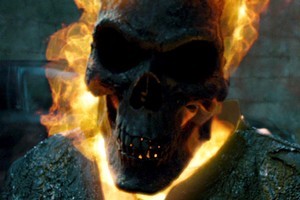 Ever since Steven Spielberg's Jaws changed movies forever in 1975, the movie calender has been dominated by the American summer, when the biggest "event" movies are released.
While this traditionally has occured from May to August, over the years the Blockbuster Season has crept back further and further, expanding through April into March.
The perception is that by getting in slightly earlier, films can feed off Blockbuster Season fever while not being lumped in with so many other competitors.
The Matrix (released March 31, 1999) and 300 (released March 9, 2007) are two examples of films achieving great success in this "Pre-Season" window.
I got thinking about this yesterday when I received my invitation to the media screening of Disney's new mega-budget sci-fi action flick John Carter, which is the first event movie out of the gate this season.
In today's blog I'm gonna pre-assess some of the first batch of event movies to hit in this year's Blockbuster Season, which I shall continue to cover as it progresses throughout the year.
Movie: John Carter
New Zealand release date: March 8
What is it? Big budget adaptatation of a series of books by Edgar Rice Burroughs (creator of Tarzan) about an American Civil War soldier who gets transported to Mars and becomes caught between various warring factions on the red planet. Hollywood's been developing and abandoning this material since the 1930s, but this is the first proper movie to come to fruition.
Why it could be good: Mars. Alien civilisations. War. Spaceships. I am onboard. Pixar stalwart Andrew Stanton (Finding Nemo) makes his live action directing debut. The first film to really pick up the gauntlet thrown down by Avatar.
Why it might suck: The buzz hasn't been spectacular, and keeping a ship this size tonally afloat is a challenge for even the most experienced directors, let alone one who's never directed live action before.
My anticipation level: 9/10
Movie: Ghost Rider: Spirit of Vengeance
New Zealand release date: March 15
What is it? Some sort of mix between a reboot and a sequel to the not-fondly remembered 2007 Marvel comic book adaptation.
Why it could be good: Crank auteurs Mark Neveldine and Brian Taylor take over directing duties from the first film's Mark Steven Johnson. Neveldine and Taylor's gonzo action sensibilities could end up being a great fit for Nicolas Cage's over the top acting antics.
Why it might suck: Nicolas Cage films really can go either way these days.
My anticipation level: 5/10
Movie:The Hunger Games
New Zealand release date: March 22
What is it? Adaptation of the first in a series of books set in a dystopian America where children must battle to the death to win food supplies for their respective districts.
Why it could be good: Lead Jennifer Lawrence (Winter's Bone) projects effortless gravitas, and the concept is undeniably appealing, despite being ripped off from Kinji Fukasaku's 2000 cult classic Battle Royale.
Why it might suck: It's being positioned as the next Twilight, and the focus sometimes appears to be more on franchise creation rather than making a decent movie. Plus some of those haircuts are pretty weird.
My anticipation level: 6/10

Movie: Mirror, Mirror
New Zealand release date: March 29
What is it? The first of two revisionist Snow White films to come out this year (Snow White And the Huntsman follows in June), this stars Julia Roberts as the Evil Queen and Phil Collins' daughter Lily (Abducted) as Snow White.
Why it could be good: Director Tarsem Singh (Immortals, The Fall) is a master visualist who always creates something worth looking at.
Why it might suck: The trailer looks awful, projecting sub-Shrek-ian fairy tale jokery and little in the way of Singh's trademark eye candy.
My anticipation level: 3/10
Movie:Wrath of the Titans
New Zealand release date: March 29
What is it? Sequel to 2010's Clash of the Titans that sees Perseus (Sam Worthington, sans the first film's anachronistic buzz cut) taking on more giant beasties from Greek mythology.
Why it could be good: Giant beasties from Greek mythology.
Why it might suck: Despite all the epic action on display, the first film was highly forgettable.
My anticipation level: 6/10
Movie: Battleship
New Zealand release date: April 12
What is it? Adaptation of the beloved board game that incorporates aliens driving giant Transformers-esque spaceships.
Why it could be good: Director Peter Berg displayed a flair for large-scale action in 2008's Hancock.
Why it might suck:The marketing campaign's efforts to play up the similarities to Transformers are utterly shameless and off-putting, and no one can seem to work out why this movie exists. Still, giant spaceships.
My anticipation level: 7/10
* Which of these early Blockbuster Season movies are you most excited about? Post your comments below: