Brad Pitt's latest may be a baseball movie, but it's an unconventional one and it's put him up for an Oscar. He talks to Michele Manelis.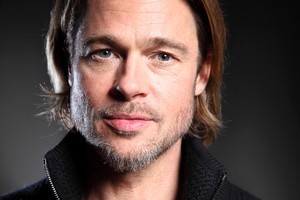 Brad Pitt may still possess an all-American smile but when it comes to that most American of sports, he's never had much time for it, and baseball almost put paid to his matinee idol looks.
"I actually know very little about baseball, besides taking one in the face when I was in junior high," he laughs, about an injury which required 18 stitches and left him with a faint scar.
But his boyhood trauma and lack of time in the dugouts hasn't stopped Pitt starring in baseball flick Moneyball.
He plays Billy Beane, a former baseball player turned general manager of the Oakland A's baseball team in a performance which has garnered him a best actor Oscar nomination. The film is also up for best picture and best supporting actor - for Jonah Hill who plays Peter Brand, the Yale-educated statistical analyst who helped Beane change the team's approach to player recruitment.
Pitt says he became obsessed with the 2003 book by Michael Lewis (Moneyball: The Art of Winning an Unfair Game) which charted how the real Beane upended decades of supposed baseball wisdom about the value of players.
And how it allowed the Oakland A's, with a salary budget of US$40 million ($48 million) to compete with teams that had payrolls many times that.
But for Pitt, it's a movie that's not just about applying maths to sports.
"There are themes in this movie that are deeply important with regards to the ideas of value. This idea of what a winner is. Or, what a loser is, how I value myself or how I value you. There's so much emphasis on a trophy or being 'the best,' or being number one. To me, to have that personal 'quiet' victory is somehow noble. To hold that as your highest standard should be the goal."
But it's still a baseball movie and one which has already made US$106 million as it heads out into those parts of the world where the game is largely ignored.
Directed by Bennett Miller (Capote) Moneyball has been hailed by various sports media outlets as perhaps the best baseball movie ever. The baseball movie is a genre unto itself, and has been well recognised in the past. The Pride of the Yankees snagged 11 nominations in 1943, The Natural which starred Robert Redford, received four in 1984, and Kevin Costner's Field of Dreams earned two in 1989, though, Bull Durham, in which he also starred (1988), received none.
But despite that tradition Pitt says this underdog story was an underdog itself.
"The film didn't fall into convention and it was a difficult one to get made," says Pitt.
"We're in tough economic times and people start betting on safer, more tried-and tested brands."
Of course, Pitt himself is something of a Hollywood trademark both on screen and off as one half of the media phenomenon known "Brangelina". He and Angelina Jolie and their six children live a well documented globe-trotting lifestyle. But with half a dozen kids ranging from 10 to 2, one could assume that lifestyle can get pretty chaotic?.
"Yep. Angie's the organiser in the family. It can definitely get crazy, but I like a little chaos. I really like it. In fact, I miss it when it's quiet. When I get that first moment of peace, I go, 'Oh man, this is great'. And then within 30 minutes, I miss them. I miss that crazy running back and forth, and sounds in the house with someone fighting, and someone banging into a wall, someone calling for 'Dad'. It's cosy."
Like Jolie, he is passionate and involved in numerous humanitarian campaigns, like Not On Our Watch, trying to prevent genocide in Dafur, a team effort with his Ocean's Eleven cast mates George Clooney, Matt Damon, and Don Cheadle. Pitt also founded the Make It Right Foundation which organised housing for the victims of Hurricane Katrina. And he donates untold millions to causes including Doctors Without Borders, and Global Action for Children.
In person Pitt is down-to-earth, and despite his and Jolie's immense wealth, those around him describe him as being "still a guy from the Midwest".
Raised with his brother Doug and sister Julie in Missouri by his dad Bill, who ran a truck company, and his mum Jane, a school guidance counsellor, Pitt was studying for a journalism degree when he decided to be an actor.
Like thousands of other good-looking hopefuls, he travelled to Los Angeles where he subsidised his acting classes with odd jobs, including dressing as a chicken, before earning his big break in Ridley Scott's 1991 movie Thelma & Louise.
In the 20 years since his scene-stealing performance in that film, Pitt has managed to keep the audience guessing his next move.
He has depicted death in Meet Joe Black, an incoherent Irish brawler in Snatch, a Nazi-killer in Inglourious Basterds and a backwards-ageing man in The Curious Case of Benjamin Button.
"Film-making is about longevity," says Pitt. "Is it a quality picture? Is it a quality story? Is there something original about it?"
These are the questions Pitt asks himself before embarking on a project today but admits he may have lost focus for a while; the results were The Mexican (2001), Spy Game (2001), Troy (2004) and Mr & Mrs Smith (2005).
The latter remains a personal favourite though, as it was the film on which he met Jolie.
"Films that I've loved [making], like The Assassination of Jesse James by the Coward Robert Ford and The Tree of Life, they're 'fine wine' pictures - they'll age well."
Pitt recently announced that he's looking to retire at around 50, and as the producer of 20 titles perhaps he'll spend the autumn years of his life behind the scenes. "It's just about getting stories across that may have a more difficult time seeing the light of day," he says. "That's all I want, to see movies get made that I believe should be made. And if my name, whatever it may or may not be worth, can help that process, then that's what I'm going to do.
"I'm sure we all have a shelf life, no question. And mine is coming," he laughs. "But there are a couple of things I want to do. I want to get to play the grumpy old man who swears, or maybe the cute grandfather."
How does the man who aged backwards as Benjamin Button feel about ageing? "Man, I'll trade wisdom for youth any day. I'm clearer about what I want to do. I think that's because I'm a dad now and I'm painfully aware that my kids are going to be seeing these movies I'm doing when they grow up. It's important to me that I leave something that they are going to be proud of."
Lowdown
Who:Brad Pitt
What: Moneyball
When: Opens at cinemas February 16
- TimeOut / Additional reporting AAP