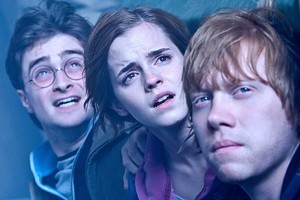 Daniel Radcliffe insists claims he's not friends with Rupert Grint are "just ridiculous", and they're just "lazy texters".
The British actor recently did an interview in which he talked about his relationship with his Harry Potter co-stars Grint and Emma Watson.
While he revealed himself and Watson "text all the time'', he played down his friendship with Rupert saying they "never text each other".
Radcliffe says that his words were "blown out of proportion" and insisted he and Rupert are "very, very good friends".
"It's just ridiculous," he told On Air with Ryan Seacrest.
"Someone said, 'Are you in contact with Rupert and Emma [Watson] at the moment?' And I said, 'Emma and I have been texting recently, but Rupert and I never text.'
"We have never texted each other in 10 years of filming. We just never have. We are lazy texters. We've never texted each other back. And we both know that's how the other person is."
Despite not having much contact over the phone, Radcliffe says the pair make up for it in person.
"I know that the next time I see Rupert, we'll sit next to each other and chat, and it will be like old times," he said.
"It will be fantastic It's just that we're not constantly texting each other."
Aside from his acting talents, Radcliffe also plays the guitar. The 22-year-old would love to put his passion for music to good use at some point.
"I haven't been playing as much recently. I love music and singing and would love to record something at some point," he told British newspaper The Sun.
"I'd love to form a band but I don't know if I would. Generally, nobody wants to hear actors who form bands, unless the music is really good."
- AAP