The last time Amanda Palmer performed in Auckland, she had narrowly avoided being caught up in the 22 February Christchurch earthquake - this time Palmer returns with drummer Brian Viglione as The Dresden Dolls. So what prompted the reunion when Palmer's solo career seems to be doing so well?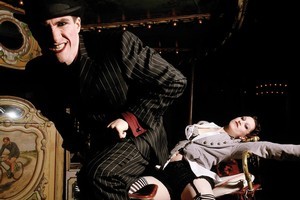 "I'm kind of allergic to the word 'reunion' because The Dresden Dolls haven't broken up," Amanda Palmer relays. "The Dresden Dolls have just become the term Brian and I use when we tour, which we're certainly doing less of since we took our first break in 2008. But we haven't stopped being a band, we haven't stopped touring. We're doing it way less and not full time."
As anyone who has seen the duo perform knows, there is a high degree of musical precision that takes place on stage with the Dolls. Fans might wonder if the time apart changed the dynamic between the two of them.
"Brian and I kind of function like brother and sister. We have this weird matching musical DNA that means that we have an ultra-psychic connection the minute we get on the stage with each other. He's a masterful drummer when it comes to understanding my musical motivations. He's a complete ninja. That kind of chemistry just is priceless."
So has performing solo changed the way Palmer performs and will how she feels on stage with Brian?
"It has. The first time I toddled back to playing with The Dresden Dolls after I'd been on tour solo, I really had to readjust. It was very strange being part of a band and then all of a sudden being alone up there, for better or for worse. And it's a matter of flipping back to, 'It's not just me up here, this is now about me and Brian'. I had gotten so used to directly focusing my energy at the audience, not to anyone on stage, all of my energy going to the audience. It's a different configuration which takes a different headspace, but I've actually gotten used to switching back and forth between one and the other."
The chances of hearing any new Dresden Dolls music on this tour are slim as they haven't recorded any new material - yet. But Palmer does promise a few musical treats.
"We play Dresden Dolls favourites and we play rare Dresden Dolls stuff, which makes the hardcore fans incredibly happy and keeps us from feeling like we're getting too repetitive, and we sometimes play Amanda Palmer stuff and every time we tour we try to arrange new cover songs that will be specific to that tour only. So we're definitely going to do that for this tour as well."
On a personal note, Palmer's husband, author Neil Gaiman, will be traveling Down Under as well. The couple celebrated their first wedding anniversary earlier this month and hosted a New Year's Eve party in Melbourne. So, after a year, is married life what she expected?
"I think I very wisely expected nothing specific and I'm making all this shit up as I go along, like everything else. I know I love Neil Gaiman deeply and I know there's probably not another man out there in the world who would tolerate having this kind of life," she says, laughing. "I consider myself extremely lucky."
OCCUPY AMANDA
The Dresden Dolls' Amanda Palmer has always been outspoken in social as well as musical issues. This past year she spent time in several cities on the West Coast of the US hanging out with activists involved with the Occupy movement. What did she learn about the people behind the placards?
"The people behind the movement are as diverse as you would imagine. I think Occupy captured everybody's romantic imagination. But it is definitely much less romantic to decide, 'Okay, where do we move forward when we're not all hanging out together throwing a very cool party where we're all pitching tents? And how do we actually effect change?' Sometimes that takes some very tedious and boring and non-romantic work, and no one wants to talk about that. But I think Occupy has been really positive. People put their energy behind it and took a stand about the fact that they're dissatisfied with the way the system is running. That has to fucking happen in a democracy otherwise, as a democracy, it collapses.
"The one thing that has distressed me is how my generation reacted to Occupy," Palmer sighs. "I don't want to believe that my generation is jaded, but I sense it and it's terrifying. It was sort of beautiful to see an oasis of action and togetherness in what seems like a sea of acceptance and apathy. I think part of the problem with our generation is there isn't something specific and focussed to fight back against, but we can't just lower our heads and trudge on, ignoring things falling apart on the greater scale. We're screwed if that happens."
VOLUME and 95bFM presents The Dresden Dolls
Wednesday 25 January - Aurora Centre, Christchurch
Friday 27 January - The Powerstation, Auckland
Saturday 28 January - The Opera House, Wellington