Graham Reid talks to Stephen Stills, a man at the heart of the 60s generation of musicians, ahead of his tour here with bandmates David Crosby and Graham Nash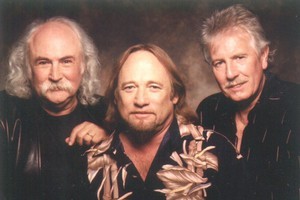 In his massive coffee-table book Canyon of Dreams two years ago, long-time Los Angeles music writer Harvey Kubernik wrote a history-cum-oral memoir of the mountainous suburb Laurel Canyon, which has been home to musicians and Hollywood legends for more than five decades.
The golden era for Laurel Canyon however was in the 60s when there were about two degrees of separation between the singer-songwriters who lived in and around this wooded and romantic area above Sunset Strip.
In the Canyon's serpentine roads Joni Mitchell, various Byrds, Frank Zappa, James Taylor, passing Beatles, Donovan, John Mayall, Canned Heat, the Mamas and the Papas, some Beach Boys and many others rubbed shoulders, jammed together, wrote about each other and, not the least, were often lovers (about whom they would write songs).
Flick to the index of Kubernik's book and one name gets multiple entries: Stephen Stills, friend with those mentioned as well as Jimi Hendrix (who played on his first solo album), various members of the Grateful Dead, and Monkees Mickey Dolenz and Peter Tork, whose house in the Canyon he bought.
Originally from New York, Stills was in LA with Buffalo Springfield (which included Neil Young, recorded three albums and scored a hit with For What It's Worth about cops hassling kids on the Strip). He became a founding member of Crosby, Stills and Nash who first sang together at either Mama Cass' house while John Sebastian of the Lovin' Spoonful swam in the pool (according to Stills) or at Joni Mitchell's place (in Graham Nash's account). David Crosby, understandably, can't remember.
But wherever it was, CS&N created Canyon-influenced close-harmony acoustic magic - and that was typical of the scene where on any given day or night people would just get together and play.
"On reflection, we were like a fireworks display, like a starburst," says Stills. "We were all part of the same one but going off at different times.
"We really enjoyed each others' company and it was a small neighbourhood. But there was no walking so we had to get in cars which meant we had to be doubly careful because they were winding streets ... and the smoke would billow out the windows," he laughs.
He attributes that drop-in culture to the absence of cellphones at the time ("there was no way to wave anybody off") and says "it's always going to happen when you've got a generation of bright musicians who are interesting, keen and curious".
"But later when we got inside the bubble and got 'famous' we kind of lost track. It's only in the last few years we've started to reach out to each other because various and sundry of us are falling off the highway here.
"So we're keeping in touch. Peter Tork came and saw me on my last solo tour in fact."
Fame certainly came quickly for CS&N: their self-titled debut album of '69 (which included Stills' suite: Judy Blue Eyes about his relationship with Judy Collins and Crosby's Long Time Gone written the night Robert Kennedy was assassinated) sold by the truckload and defined their sound. Their second gig was at Woodstock, although within a year and after the Deja-vu album (with Neil Young) they split up, not for the last time.
"Yes, 'famous'. When it comes all in a rush like that it doesn't matter whether it is too early or too late, you're never ready for what it brings. Afterwards is like post-traumatic stress syndrome and it is likely to wreak havoc with your nervous system and relationships."
But as the Laurel Canyon writers proved, relationships and their failings spawned any number of songs, not the least for Nash who wrote about his happiness with Joni Mitchell (Nash's Our House) and separation (Simple Man).
"We all suffered quite publicly from the slings and arrows of early 20s romance, we wrote about everything that happened to us because we're Baby Boomers and of course the centre of the universe," he laughs.
"I'm only half-kidding about that, but it did seem the disposition of all of us. That, and social commentary."
Stills - now 67, with seven children (the youngest age 7 from his third marriage), a Kiwi daughter-in-law and two grandchildren - is still an outspoken liberal and warms to taking a poke at the current crop of "clown card" Republican contenders.
"What we've seen so far, aside from the tragic part, is high comedy. In case you ever think that any of us ever did any good, just listen to these morons talk. It is just preposterous what they are proposing and what they think of the world. You cannot live that isolated. They want to turn us into a banana republic. If you loved Haiti, you'll like what they are trying to turn the United States into."
The past few years haven't been kind to Stills' health. Just before the CS&N tour here in 2007 he hurt his leg and was considerably overweight, shortly after there was a prostate scare (he's fine now) and I have to speak up because of his hearing loss.
But he laughs it off.
"Well, I've lost 35 pounds (16kg) and although the hearing doesn't get any better, at least I've got all the machines to make it better. But I think from my general demeanour you can tell I'm very fit."
LOWDOWN
Who: Stephen Stills (pictured centre, above) of Crosby, Stills and Nash
What: Crosby, Stills and Nash, Trusts Stadium Arena, Auckland
When: March 24
Trivia: Stills played at three of the biggest concerts of the late 60s. He was with Buffalo Springfield at the Monterey Pop Festival in 1967 which launched the peace'n'love era, and with CS&N at Woodstock in mid 69 which was the zenith of the era (CS&N's second concert). CS&N with Neil Young also played the violent Rolling Stones' free concert at Altamont in San Francisco in December 69 which was the farewell to 60s optimism.
-TimeOut