Ahead of their Vector Arena show, Scott Kara talks to Incubus bass player and multi-instrumentalist Ben Kenney about the band's staying power.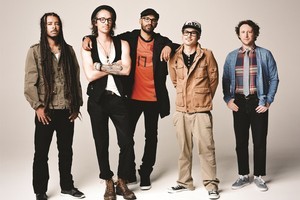 Ben Kenney admits he's been "hired for bands, fired from bands, and quit bands".
"I've been in lots and lots of bands," he laughs. The multi-instrumentalist and bass player of American rockers Incubus is holed up in his garage - which is filled with "guitars and motorcycles, just the essentials" - at his Californian home, enjoying 10 days off before the band hit the road once again. The tour includes returning to New Zealand for a show at Vector Arena on January 31.
Prior to joining Incubus in 2003 one of his proudest moments was conjuring up musical alchemy with alternative hip-hop band the Roots on their classic 2002 album Phrenology.
"We got loose and we just had a great time creating and I got to experience [Roots main man] ?uestlove's genius at the core level and it's mindblowing what that guy is capable of."
But then Kenney hooked up with Incubus, and it's the perennial American band, fronted by that good-looking bloke Brandon Boyd and his guitar-slinging mate Mike Einziger, that he has stuck with longest, even though he still collaborates with other artists and releases solo albums.
"It's just a good thing. And it's fun. And they play big-arse shows," he laughs.
Boyd and Einziger, two childhood friends from Calabasas, California, and drummer Jose Pasillas formed Incubus 20 years ago and Kenney attributes the band's longevity to not taking it for granted and constantly moving forward.
"To get this far you've pretty much beaten every odd that you can beat - and that's an exciting thing. Most bands get two records at most, and most bands don't get to here, and we are constantly going, 'Don't f*** this up, this is a good thing'.
"And the band has never really been stuck in a place where it's like, 'this is what we're going to do'. There is always this constant desire to do something, finish and move on."
He laughs when he sums up the band's legacy as: "something like the biggest small band, or the smallest big band in the world".
Because Incubus are big, but not that big. Still, if 1999's Make Yourself was their breakthrough, then 2001's Morning View, with anthemic sing-a-long tracks like Wish You Were Here and Nice To Know You, made them a very popular band. In New Zealand the latter sold more than 30,000 copies, making it their biggest selling album.
Another thing keeping them together is the fact they know when they need a rest from each other. They took a break after 2004's A Crow Left of the Murder (Boyd referred to it as a separation rather than a divorce when TimeOut talked to him in 2006), and then they were back with Light Grenades in 2006.
Following that album they took an even longer break and mid this year released If Not Now, When?.
"We had been going at it for a while and everything just pointed to it being time to step back from it and live some life," says Kenny. "It gets tricky being in the studio, in the tour bus, on a plane, on the tour bus - that routine doesn't tend to inspire and so you have to walk away from it. Go live. And figure out what you want to do next."
What they did was a more stripped back, and reflective set of songs. The country-tinged Defiance and the serenading Friends and Lovers were a far cry from the catchy and raging older songs Megalomaniac and Nice To Know You.
The anomally on the album was the punchy noise funk of In the Company of Wolves. "We wanted it to have the feel of a 70s LP cut, if you know what I mean. An end of side one kind of track from 30 or 40 years ago," he says.
For Kenney and his band mates it was a challenge playing a more spare style of rock 'n' roll - while still maintaining that trademark Incubus polish and power.
"This one is one of the simplest things we've ever done - and that was the intention. We had to sit down and learn what we sound like when we slow it down and relax and just let things happen. The best thing about it is when we play these songs with the old songs everything just takes on a new light because there is more of a palette."
LOWDOWN
Who: Incubus
Where and when: January 31, Vector Arena
Latest album: If Not Now, When?, out now
Worth checking out: Make Yourself (1999); Morning View (2001); A Crow Left of the Murder ... (2004); and Light Grenades (2006)
- TimeOut