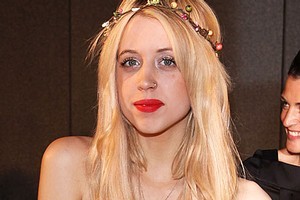 Her first marriage lasted just six months.
But that doesn't seem to have deterred Peaches Geldof, who has announced she is to marry for the second time at the age of 22.
She claims she has exchanged her wildchild lifestyle for embroidered doilies, vintage sofas - and a mortgage.
Miss Geldof, daughter of Sir Bob, revealed over the weekend that she is engaged to her boyfriend of 12 months, 20-year-old Thomas Cohen, the lead singer in an "art rock" band.
At 19 she eloped to Las Vegas to marry American musician Max Drummey. The couple celebrated their wedding by having each other's names tattooed on their hands, but they split six months later and then divorced.
This time round, however, she plans a more conventional marriage, and has revealed her new passion for painting ceramics, collecting doilies and bidding for vintage furniture on eBay.
She said: "Yes, I'm engaged! We don't want to get married for a couple of years yet though so don't expect me in a dress yet.
I'm so happy."
The television presenter, who said she has become "very much domesticated," even discussed the difficulties of getting a mortgage.
"It's a nightmare, because I'm self-employed, but we got one finally. We're moving to Whitechapel, to a three-bedroom Victorian conversion, which we got for pretty cheap. We're moving in around January. It's really exciting."
She added: "I'm actually really boring. Recently, I've been staying in with my fiance every night of the week, watching films like Babe."
- Daily Mail