After a decade of deeply conceptual releases, all-star collaborations, pissing off and enlightening hardcore punk purists in equal measures, and garnering near universal critical acclaim, where do F**ked Up go from here?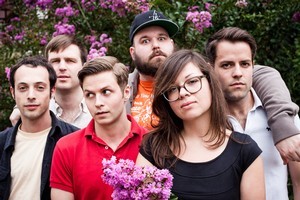 According to Damian Abraham AKA Pink Eyes, vocalist for Toronto's mind-expanding hardcore outfit F**ked Up, the next move for the band to plot was to go for broke and make an 18-song rock opera rather than settle for anything resembling a lateral move.
"We just were so convinced no-one was going to like this record because the last record had been so well received. We were like, 'Oh well, law dictates that if one record was well-liked, no-one's going to like your next one - why don't we do this rock opera idea?'"
The idea was one initially laughed off in 2006 when guitarist Mike Haliechuk (10,000 Marbles) had mooted a rock opera based on a striking track from their album Hidden World. That track was called David Comes to Life. Recalling that idea, they fleshed it out into a story of love and loss for a pair of lightbulb factory workers in Thacherite Britain. Ironically, it's on this most conceptual of undertakings that F**ked Up have made their most personal album.
"It's really easy to hide behind grandiose concepts in this band. When we were writing [2008 album] The Chemistry of Common Life - not that I don't feel passionately about the lyrics on that record - but when you're singing about the history of humanity from a male perspective, it's really easy for Damian Abraham the person to hide himself completely. Whereas, this record, when you're singing about love and failure of love and the death of ideology and inspiration, and the rebirth of that, you're really drawing from personal experience. I think Mike and I could pinpoint with every song which failed relationship and moment of life it deals with."
David Comes to Life has also proved to be their most accessible undertaking. It's not easy for a psychedelic behemoth of a hardcore band to break through to the masses, but tracks like Queen of Hearts have an inescapably anthemic quality that's like nothing else you'll hear on the radio. Their constant forward motion is their most admirable trait. Coming out of the hardcore scene where experimentation can sometimes be equated with selling out, they've constantly pushed their own boundaries.
"People think that they want you to do the same thing over and over again, but they're going to get sick of it too. So if they're to get sick of you doing the same thing over and over again, and they're going to hate you for trying something new, you might as well try something new, because at least you can be excited as a band, and hopefully other people will be interested too."
It's that creative trailblazing that keeps them together after 10 years in tour vans. "You hit a point where you run out of things to talk to each other about," says Abraham. And he told Prefix magazine in 2008 that "change is how we tolerate being around one another", which feels somehow as profound as it does sad. But it's not necessarily a bad thing, he says.
"As time has gone on, the main thing we have in common has become this band, and it becomes the music that keeps you together. People tend to think of it as this dark, bad thing, but it can also be a wonderful thing, because you think about the music and what you're creating first, and about interpersonal relationships second."
Still, the stress of the lifestyle has led Abraham to question if he can continue touring with the band while raising a young family. It's seen him speculate that the band could continue as a collective, with other vocalists stepping in to share the load. As hard as it is to imagine anyone but Pink Eyes raging at the microphone for F**ked Up, it's an intriguing idea, and their albums have always featured an array of seemingly unlikely guests, running the gamut from members of Vivian Girls to Owen Pallett.
As our conversation winds up, it's heartening that rather than a fear or resignation towards whatever the next stage of F**ked Up may be, there's a thankfulness from Abraham for what's been before, and a palpable excitement for the unknown.
"I think that's what's really exciting about being in a band like this, that you get to try new things. And if you fail, if this next phase of the band is a disaster and that's how it ends, well, fine - we survived a lot longer than I thought we would. I cannot believe how long we've been together as a band and the absolute ridiculous shit we've been able to do together."
*F**ked Up support Foo Fighters and Tenacious D at Western Springs Stadium on Tuesday 13 December.